The world of online trading can be a lucrative venture, but it is also filled with risks. Unfortunately, there are unscrupulous brokers like DBSX Pro looking to take advantage of unsuspecting traders. In this article, we will provide an in-depth review of DBSX Pro, exposing their deceptive practices and why you should not trust them with your hard-earned money.
Company Overview
DBSX Pro presents itself as an online brokerage firm specializing in various financial assets. They claim to offer a wide range of services and enticing benefits to attract potential investors. They claim they are operating in the United Arab Emirates, Hong Kong, Taiwan, Malaysia, the United Kingdom, and other countries and regions.
Lack of Licensing
One of the most alarming aspects of DBSX Pro is its lack of licensing. Upon investigation, it becomes clear that the company does not possess the necessary licenses to operate legally as a broker.
Absence of Regulation
DBSX Pro operates outside the jurisdiction of any recognized regulatory authority. This means that there are no safeguards in place to protect traders from fraudulent activities. According to their website, they are operating in the UK, but when we searched in the FCA database, we did not find any regulation confirmation about this company.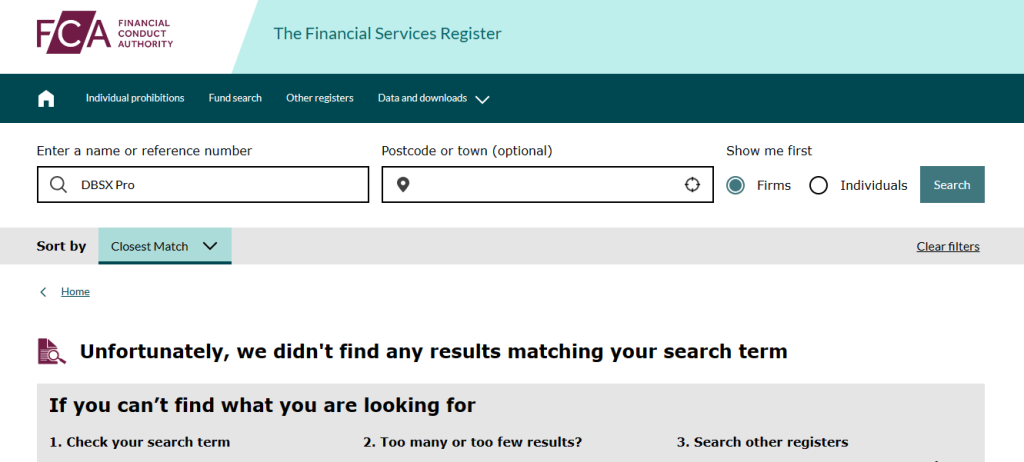 This is just an example, we searched the other countries' regulatory bodies too, and the results were the same.
Pros and Cons

While DBSX Pro may try to highlight its advantages, it is important to recognize the risks involved. Some potential pros include a user-friendly trading platform and access to a variety of financial assets.
However, the cons overshadow any perceived benefits, as the lack of regulation and licensing raises significant concerns about the company's legitimacy and trustworthiness.
Deceptive Tactics

DBSX Pro employs various techniques to lure in unsuspecting traders. They often use aggressive marketing tactics, promising quick profits and lucrative opportunities. Additionally, they may reach out to potential victims through unsolicited phone calls, making unrealistic claims and pressuring individuals to deposit funds.
Technical Details

DBSX Pro did not disclose any information about their minimum deposit amount.
Trading Platform:

The trading platform offered by DBSX Pro may appear professional and user-friendly at first glance. However, it lacks the necessary features and tools for advanced trading strategies. This limitation restricts traders and hampers their ability to make informed decisions.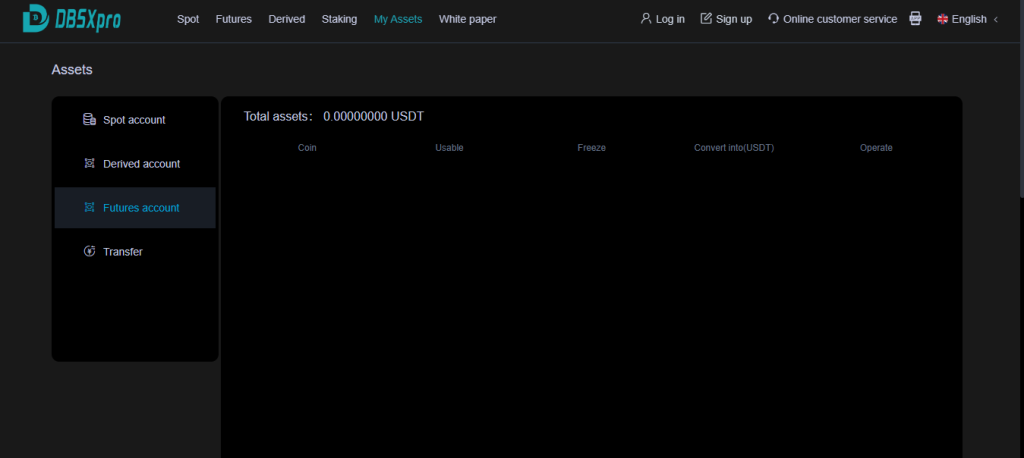 Spread, Leverages, and Packages:

We did not get any idea about their spread, leverages, and their account types. They are hiding this information very carefully so that they can do whatever they want.
Withdrawal and Deposit Methods

DBSX Pro makes it relatively easy for traders to deposit funds. However, when it comes to withdrawals, the process becomes convoluted and excessively delayed. Many traders have reported difficulties in withdrawing their funds, and some even claim that their request for withdrawal was completely denied.
Testimonials from Traders

Previous traders who have fallen victim to DBSX Pro's deception attest to their unethical practices. Reports of funds being blocked, manipulation of trades, and refusal to process withdrawals are common complaints. These testimonials provide further evidence of DBSX Pro's untrustworthiness.
Summing Up – Why You Should Not Trust DBSX Pro:

Considering their lack of licensing, absence of regulation, deceptive tactics, and numerous complaints from previous traders, it is clear that DBSX Pro cannot be trusted with your funds. Investing in them poses significant risks that can result in substantial financial losses.
Where to Obtain Quick Solutions:

If you have already fallen victim to DBSX Pro or any other scam broker, it is crucial to seek immediate assistance. Contact us for an immediate solution. We offer free consultation calls and reliable recovery service recommendations to help you recover your lost funds.
File A Complaint
Against Scam Broker's
Final Thoughts:

When it comes to online trading, it is essential to conduct thorough research and only engage with regulated brokers. DBSX Pro's lack of licensing, absence of regulation, and deceptive practices should serve as warning signs to potential traders. Your financial security should be a top priority, so always proceed with caution and choose reputable brokers with established track records.
You Can Read Our Other Scam Reviews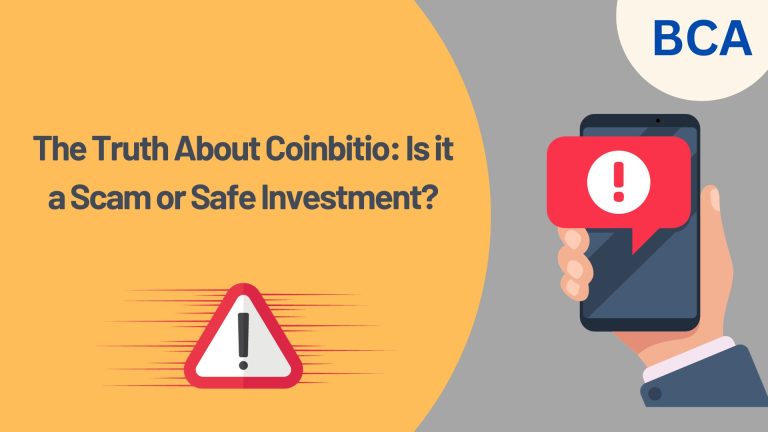 Coinbitio is a cryptocurrency exchange platform that claims to offer a variety of features and services to its users. However, there is a lot of
Read More »