Hello, and thank you for visiting the ZenithBits Company review. An unregulated investment firm that is notorious for stealing from its customers is currently being investigated by our team.
Overview
This is an online investment firm that operates out of Caphouse Colliery, New Road, Overton, Wakefield WF4 4RH, United Kingdom. This business is owned by Cryptoteng Investment.
| | |
| --- | --- |
| Website | zenithbitinvestment.com |
| Company | Cryptoteng Investment |
| Address | Caphouse Colliery, New Rd, Overton, Wakefield WF4 4RH, United Kingdom |
| Phone | N/A |
| Email | [email protected] |
| Regulation | Unregulated, Blacklisted |
Is ZenithBits Regulated?
Because this is not subject to any regulations and is very certainly operating in violation of the law, any deposits you make there might result in the loss of your money.
Therefore, there is even additional justification for avoiding zenithbitinvestment.com under any circumstances!
Companies that provide investment services online but lack the necessary license are unable to offer their customers any kind of security against potential losses. On the other hand, regulated businesses are legally obligated to comply with a myriad of laws designed to protect the financial assets of their customers. For instance, a firm will be granted a license in the vast majority of countries and regions provided it satisfies the minimum capital requirement, which varies from nation to nation and may also be contingent on the product specification, business categorization, and so on.
Warnings From Financial Regulators
The FCA published a warning against ZenithBits on 28th October 2022. In this warning, they clearly mentioned that this firm is not authorized or regulated by them. This firm is illegally operating its activities and targeting people mostly from the UK.
Is ZenithBits Can Be Trusted?
We have previously seen that they are not subject to any regulations, and they do not provide any particular contact information that may be used to validate them. Additionally, the FCA has issued a caution to them, which will be discussed in the next section. Should you have faith in this business? – No.
What kind of currency pair do ZenithBits offer?
Its currently offers forex pairs, crypto trading, stocks, commodities, and indices.
Customer Support
A good company never hides all kinds of contact information and they usually reply to any email or phone call quickly. But this does not do anything of these. ZenithBits don't provide their phone number on the website, they do not reply to any emails, and do not reply on chat. They will contact you whenever they think you can be the next potential victim of their scam. They usually communicate while you are providing money. When you want to withdraw or ask for any clarification, they just cut off the communication.
Trading Method (MT4 or MT5)
There is no specific information about the platform they offer. But, we have some information based on the report we got. They use the MT4 platform which is popular, but it does not mean that they are not scam. Many scammers are using this platform to gain the trust of newbies.
You Can Read Our Other Scam Reviews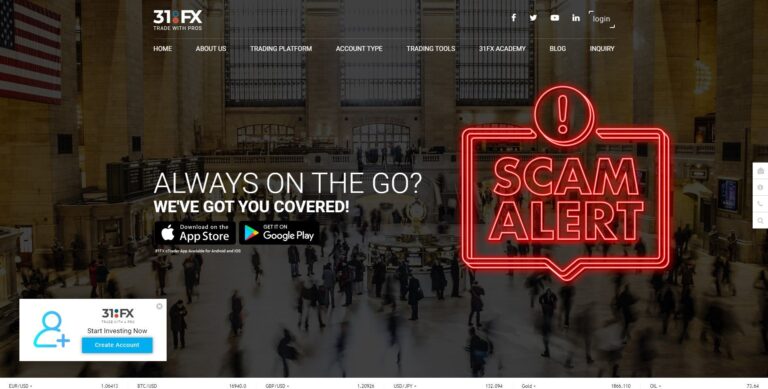 We'll look at the offer that this broker put together for its traders in our 31FX review. Since 2014, 31-FX has been active in the
Read More »
The website of BrisTrades is a total shambles, crammed to the gills with pointless content and ridiculous features. Many aspects of it are damaged or
Read More »
What Do Traders Think Of ZenithBits?
When we did some research to find out the traders' opinions or thinking on ZenithBits, we found as usual negative reviews. Most of the reviews are based on their Unregulated status, unreal leverage fees, withdrawal problems, problematic customer support, etc.
What To Do If You Get Scammed?
The encouraging news is that assistance can be obtained if necessary. Broker Complaint Alert is a specialized organization that is committed to assisting customers in recovering cash that was lost online. The crew at Broker Complaint Alert is accessible around the clock, and they have assisted customers from all over the globe in recovering millions of dollars.
In this quest, it is essential to make use of a reliable service such as Broker Complaint Alert since a standard chargeback procedure may sometimes be difficult and time-consuming if one does not have the appropriate counsel.
After you have completed the form located above, and they have verified that you are eligible for their programs, Broker Complaint Alert will assist you in constructing a compelling argument in order to reclaim your monies as quickly as possible.
File A Complaint
Against Scam Broker's
Final Thoughts
You should stay away from an unlicensed site known as zenithbitinvestment.com. Their investment method is not reliable. Losses, especially those involving unregulated investments, are often made under the guise of anonymity. The service will inevitably shut down at some point in the not-too-distant future offering false investment opportunities to traders and investors with little or no expertise, their typical target audience being inexperienced traders and investors. You should maintain a safe distance from unregulated institutions and only trade on regulated platforms.