The Forex market, known for its high potential returns, has attracted numerous traders looking to make quick profits. Unfortunately, not all brokers operate with integrity. In this review, we will delve into the controversial activities surrounding Forex Grand and explore whether it is a trustworthy broker or a potential scam.
Company Overview

Forex Grand is a forex company that lets you trade on the MT4 platform and gives you access to more than 40 currency pairs, stocks, futures, shares, metals, and more. The company kept up a very well-designed plan with a website that looked good and an in-depth offer.
Does Forex Grand Have Any License?
Nordic Pearl Limited runs the brand, according to its website. This is a company with its headquarters in Bulgaria, but it is not controlled by Bulgaria's Financial Supervision Commission (FSC). The country code for Switzerland is included in the given phone number, though. In addition, the broker says that settlement and billing are done by Las Processing D.O.O., a company based in Montenegro. To make things even more confusing, when we got ForexGrand's MT4, the name of yet another company showed up: Grand Services Ltd.
It is clear that this broker is not licensed and legitimate.
Is Forex Grand Regulated By Any Authority?
In our extensive research, we found no evidence supporting the claim that Forex Grand is regulated by any reputable financial authority. Also, several regulators told Forex Grand that the company was giving illegal and unapproved services to residents, as the business plan in question needs to be allowed. In June 2018, the Bulgarian FSC put Forex Grand on its warning list. Earlier, the UK's FCA warned buyers about the company by putting it on its official ban.
"In the UK, almost all businesses and people who offer, promote, or sell financial services or products must be licensed by FCA." We highly advise that you only do business with financial firms that we have approved. You can check the Financial Services Register to make sure they are allowed.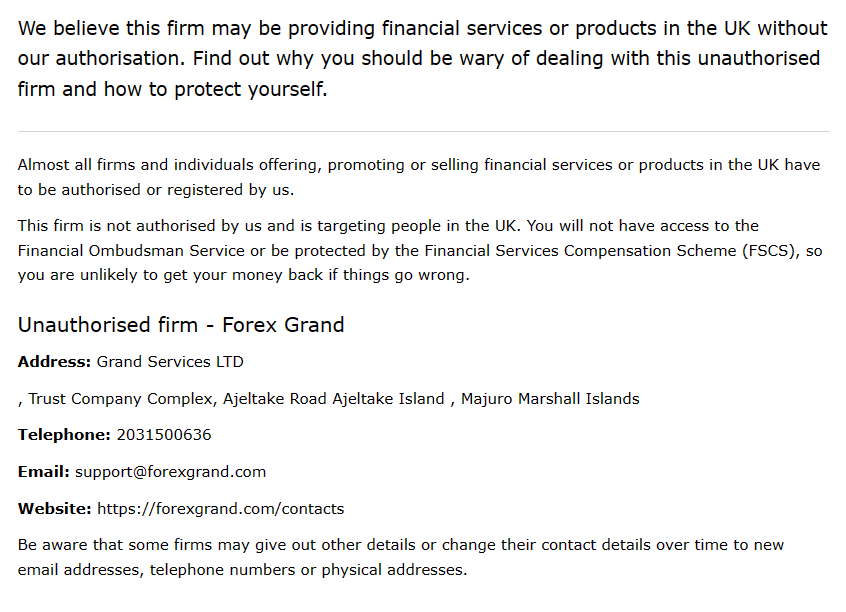 Pros and Cons:
While it is important to highlight any potential positives, limited positive feedback exists regarding Forex Grand's services. However, the negatives overwhelmingly overshadow them, making it difficult to recommend this broker as a reliable trading partner.
How Does Forex Grand Reach Their Prey?
Forex Grand employs aggressive advertising techniques, targeting inexperienced traders with promises of quick and easy profits. By portraying themselves as a trustworthy platform for financial success, they attract vulnerable individuals who are unaware of the risks involved in Forex trading.
Technical Details
Analyzing the technical aspects of the broker's services is crucial before committing any funds. Forex Grand's minimum deposit requirement is $250. It is such as standard limit in regard to industry standards.
Trading Platform:
ForexGrand works with the well-known MetaTrader 4 (MT4), as do most exchanges. But, we already showed that their platform is named for another company.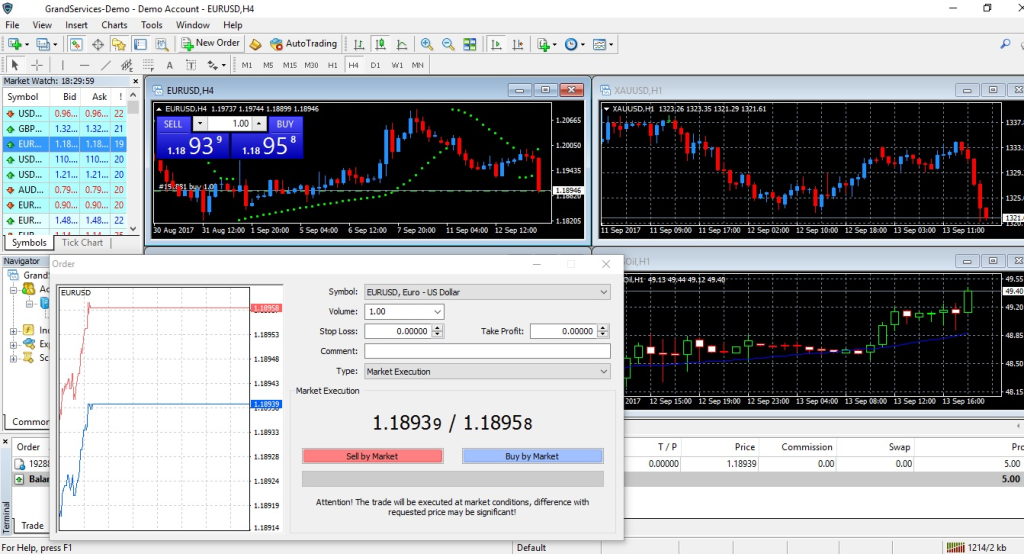 Spread:
Forex Grand's wide spreads lead to increased trading costs for their clients, reducing their potential profits. They offer 0.5-2.5 pips.
Leverage:
Forex Grand offers high leverage, enabling traders to open larger positions with limited capital. They offer 1:300 leverage.
Packages and Products They Offer:
Forex Grand offers various account packages, each with different features and benefits. However, it is important to note that these packages often come with additional hidden fees and unnecessary restrictions, limiting traders' freedom and hindering their success.
Withdrawal and Deposit Methods:
Numerous complaints have been reported regarding Forex Grand's withdrawal process. Traders have encountered difficulties in accessing their funds, experiencing delays and excuses from the broker when attempting to make withdrawals. This lack of transparency and poor customer service further raises concerns about the legitimacy of the company.
What Do Their Previous Traders Say?
Feedback from previous traders should be considered when evaluating a broker. A quick search reveals countless negative reviews from dissatisfied clients describing Forex Grand as a scam, warning others to avoid trading with them. These testimonials serve as a red flag, highlighting the potential risks associated with investing with this broker.
Summing Up – Why Should You Not Trust Forex Grand:
Forex Grand's lack of regulation, high minimum deposit requirements, poor trading platform, wide spreads, and negative customer reviews all contribute to an overwhelming argument against trusting this broker. The risks involved far outweigh any potential benefits, making it advisable to steer clear of Forex Grand altogether.
If Bad Things Happen, Where Can You Get The Quick Solution?
In the unfortunate event of falling victim to a scam broker, it is essential to seek assistance from experts in the field. We provide free consultation calls and offer recommendations for reputable recovery services that specialize in assisting traders in recovering lost funds.
File A Complaint
Against Scam Broker's
Final Thoughts:
Forex Grand exhibits numerous red flags that should not be overlooked. With a lack of regulation, poor customer service, and a history of dissatisfied clients, it is vital to conduct thorough research and exercise caution when considering this broker. Ultimately, protecting your hard-earned money is paramount, and making an informed decision is crucial in the forex market.
You Can Read Our Other Scam Reviews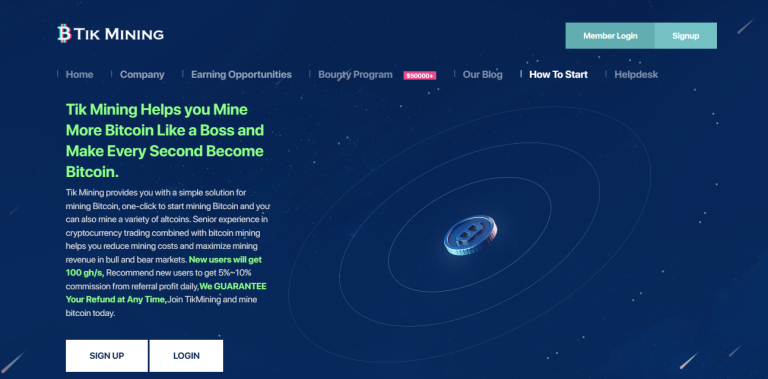 Tik Mining is a crypto mining platform that claims to offer high returns on investment. However, there are a number of red flags that suggest
Read More »