Trading digital assets can result in profit or loss, but discovering that you have sent your money to a cryptocurrency scam is unacceptable to any trader. 
The issue of cryptocurrency scams is getting worse because there are more phony transactions appearing on the scene daily. We have carefully examined Emporio Trading and have produced this review to advise you against using this broker's services.
Company Overview
Emporio Trading is a trading firm that uses the industry-leading MetaTrader4 platform and a variety of assets to deliver STP execution (also check STP Brokers). The broker highlights that the company services hundreds of thousands of traders from Europe, Asia, and Latin America and that it has a global, internationally known commercial position.
Does EmporioTrading Have Any License?
No, they don't have any license. They claim they have a license from Vanuatu financial authority, but as we dug deeper into the details surrounding Emporio Trading, we discovered that the company was initially founded and based in Vanuatu's offshore region. As a general rule, we advise against dealing with offshore brokers because, as of late, these brokers are almost always scammers or inadequately funded enterprises that may simply set up shop in a place like Vanuatu and carry out their dubious operations.
Is EmporioTrading Regulated By Any Authority?
As a broker with a potentially dubious license, Emporio Trading has been singled out. They might be holding an offshore license from a third-tier regulator, or they might be pretending to be regulated when they are not. 
Pros and Cons
| | |
| --- | --- |
| Pros | Cons |
| | |
| | |
|   | No educational resources. |
How Does EmporioTrading Reach To Their Prey?
EmporioTrading reached its target by using social media platforms and cold-calling methods. They message their target and often call to lure the target by providing exciting offers.
Technical Details
The ECN Beginner account requires a $10,000 minimum deposit, which is excessive given that it is intended for "beginners." Moving on, the minimum for an ECN Premium account is $20.000, and the full-featured ECN Pro account requires $50.000. Because of their high demand for their subpar services or because it seems like they only choose customers with large budgets, Emporio creates a high barrier to entry.
These minimum deposit amounts are not displayed on the Emporio customer portal. We now know that a deposit must be made with a minimum of $100. The Withdrawals and Deposits page lists various amounts, although these are most likely not account-related minimum deposits.
Trading Platform:
Emporio exclusively offers the MetaTrader 5 platform, which is accessible on desktop PC and Mac computers as well as iOS and Android mobile devices. For people who prefer not to install anything or only have a quick look at their positions, there is an alternative browser: MT5 Web Trader. MT5 can locate the Emporio servers with a ping of less than 50 ms with ease. The traditional four major Forex pair charts are open on the platform, which is configured as default.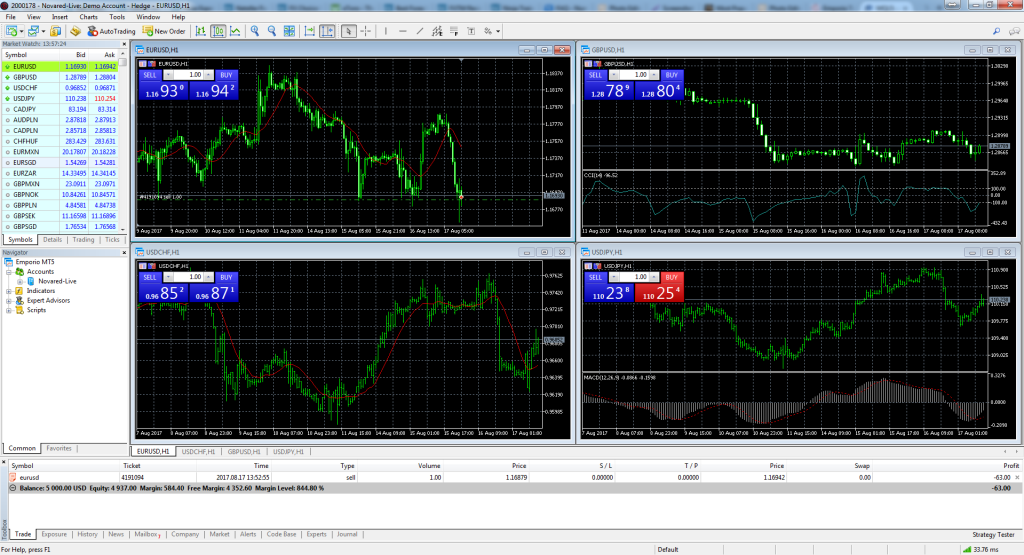 Spread:
There are numerous statements on the Emporio website for a single trading condition. Spreads work in the same way. Spreads of 0.0 and 0.2 pip are only marketing terms and are not accurate. For certain exotics, we discovered both floating and fixed spreads. In official terms, Emporio is a floating spread broker. In the business, the spread for EUR/USD was regarded as high, ranging from 1.8 to 4 pip.
Leverages:
The maximum allowed leverage is 1:1000, and it is only accessible for the ECN Beginner account. In the industry, this is one of the highest levels that is feasible. ECN Premium demands a substantially larger deposit and has a maximum leverage of 1:200. Leverage on the ECN Premium account has been reduced to 1:100 in line with the same trend. In addition to the high minimum deposit requirement that is inconsistent with the information in the Emporio client portal, the high leverage for beginners is generally not recommended. 
Packages and Products They Offer
According to their website, Emporio has three different account types. ECN Pro, ECN Premium, and ECN Beginner. With the biggest leverage levels and micro-lot trade sizes, the ECN Beginner is the most economical option, but it offers the fewest available assets for trading. 

Withdrawal and Deposit Method
There are no withdrawal fees with Emporio. The procedures are the same as with credit cards, e-wallets, bank transfers, and deposits. Be aware that certain methods have minimum requirements. E-wallets have no withdrawal limits, whereas bank transfers have a $500 minimum and a $2500 maximum.
What Do Their Previous Traders Say?
We found mostly negative reviews about this broker. We found several reviews where it is clear that they are not happy at all.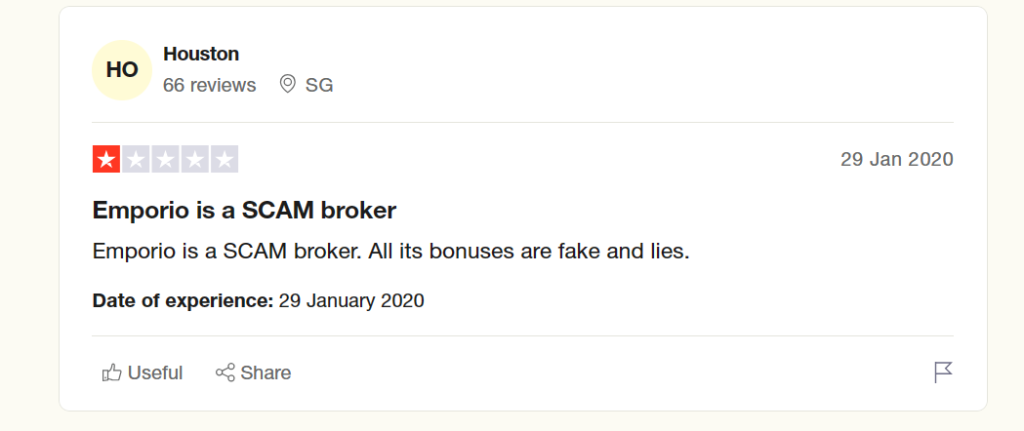 Summing Up- Why Should Not You Trust EmporioTrading
In summary, it is clear that EmportioTrading is a clear scam. They don't have any license or authority to regulate. Their spreads and other technical details are not clear on their website.
If Bad Things Happen, Where Can You Get The Quick Solution?
Broker Complaint Alert will help you if you were duped by this broker. Contact them now. Our group is equipped with the skills, information, and instruments needed to conduct an in-depth study. With our wealth of knowledge in the financial sector, we are adept at looking into all kinds of scams. We'll assist you in getting your claim resolved and in getting any complaint or disagreement settled.
Through a free consultation call, we will provide you with some recovery service recommendations to help you recover the lost funds.
File A Complaint
Against Scam Broker's
Final Thoughts
Although the platform tested quite well, we are unable to verify that these conditions will apply to real-account trading. Emporio Trading seems to provide almost alluring conditions, but the offshore regulation raises many more concerns.
You Can Read Our Other Scam Reviews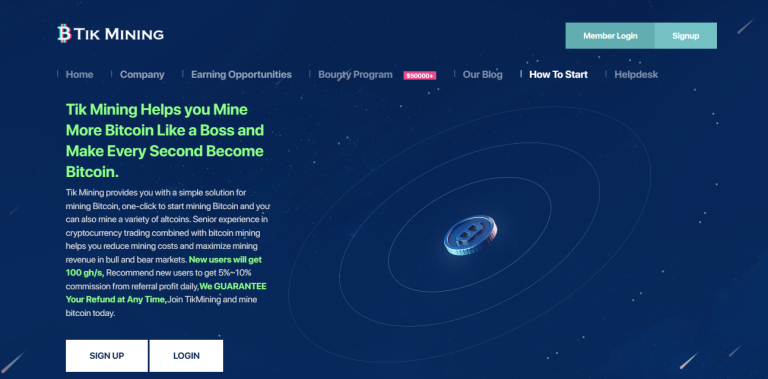 Tik Mining is a crypto mining platform that claims to offer high returns on investment. However, there are a number of red flags that suggest
Read More »