TradeBaionics appears to be a financial broker that promises lucrative trading opportunities and exceptional returns on investment. However, a closer look reveals alarming red flags that suggest potential fraud. This article aims to shed light on the dubious practices employed by TradeBaionics and the risks associated with engaging with this platform.
Company Overview
TradeBaionics claims to be a leading online trading platform, providing various investment opportunities in forex, stocks, commodities, and cryptocurrencies. This is a trading business that operates anonymously. The Terms & Conditions contain no information on the owner, corporate headquarters, or anything like. Due to this, we're not clear which regulatory authority the business should fall under.
Does TradeBaionics Have Any License?
TradeBaionics lacks proper licensing documentation, raising concerns about its credibility and adherence to industry regulations. The absence of a legitimate license is a clear warning sign that traders should be cautious when considering this platform.
Is TradeBaionics Regulated By Any Authority?
TradeBaionics operates without regulation from any recognized financial authority or regulatory body. They are warned by CONSOB (Italy) for doing unauthorized business and scam activities.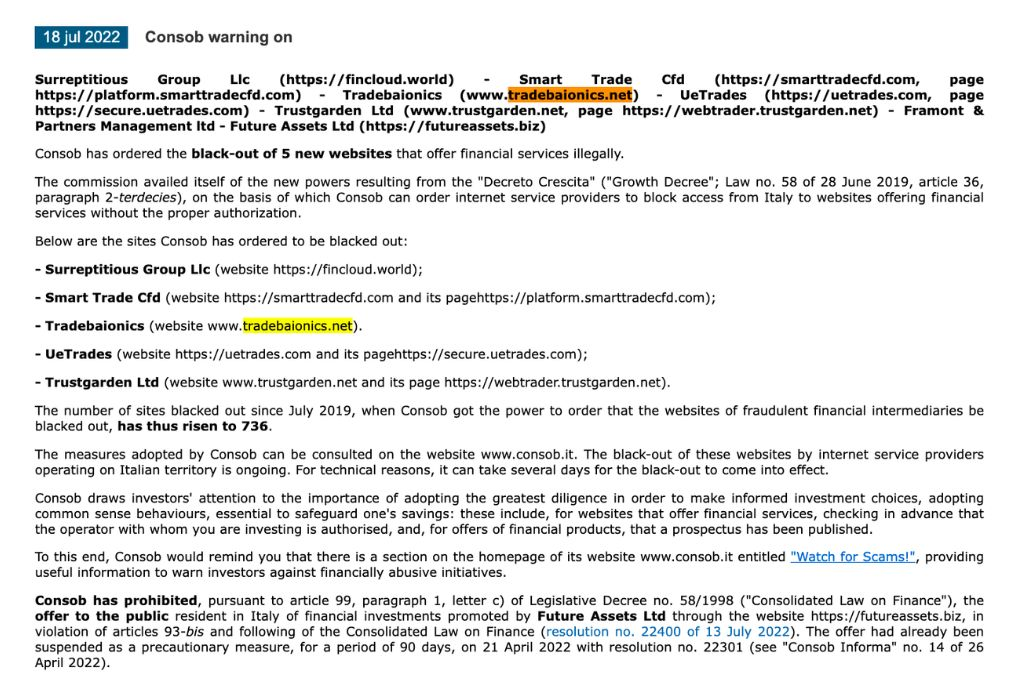 Pros and Cons
While TradeBaionics brags about its exceptional services and opportunities, it is vital to assess the pros and cons objectively. On the positive side, the platform offers a user-friendly interface. However, the cons outweigh these benefits, including the absence of licensing, regulation, and numerous complaints from former users.
How Does TradeBaionics Reach Their Prey?
TradeBaionics employs various manipulative tactics to lure potential investors. They often target consumers through unsolicited emails, aggressive phone calls, and misleading advertisements promising unrealistically high profits. Such practices should be viewed as warning signs and approached with caution.
Technical Details


Minimum Deposit:
The minimum deposit requirement for TradeBaionics is quite unclear.
The Deposits and Withdrawals section suggests that you can create an account with $250; the Account Types section suggests that the minimum is $500, and the Investment Requirement section suggests that you must deposit $10,000.
Trading Platform:
We have some questions about the TradeBaionics trading platform. The company has three segments: WebTrader, MT4, and MT5.
MT4 and MT5 cannot be accessible, however, and even if you register an account with the company, you will only receive a basic WebTrader. indicating that, like the regulatory tale, MetaTrader is simply a lovely pitch to get you to make investments.
Although not the worst we've seen, this broker's WebTrader cannot be compared to MetaTrader because it lacks sophisticated trading capabilities. You may browse asset overviews, make transactions, and look at trading activity.
Spread:
TradeBaionics's spread, the difference between buying and selling prices, is notably higher compared to other legitimate brokers. This inflated spread can significantly impact traders' profitability, making it difficult to generate returns.
Leverages:
Leverage can go as high as 1:200 and is unregulated. Legal brokers adhere to tight regulations that, depending on the regulating body, permit leverage of 1:30 or 1:50. The goal of this cap is risk management. Nevertheless, TradeBaionics is unconcerned with your dangers.
Packages and Products They Offer:
No account types are displayed in the TradeBaionics account types section. The company claims to have a special account for each customer, and you may select it when you join, however, this is not true.
Withdrawal and Deposit Method:
Numerous complaints suggest that withdrawing funds from TradeBaionics is a challenging and frustrating process. Delays, hidden fees, and denied withdrawal requests are common occurrences.
What Do Their Previous Traders Say?
Numerous traders have reported negative experiences with TradeBaionics, highlighting issues such as withdrawal complications, poor customer service, and unexpected charges. Such testimonials emphasize the need for caution when considering this platform.
Summing Up – Why Shouldn't You Trust TradeBaionics
TradeBaionics showcases several warning signs that should deter potential investors. The absence of licensing and regulation, along with numerous complaints from previous traders, indicate a high potential for fraudulent activities. Engaging with an unregulated broker like TradeBaionics exposes users to significant risks, including loss of funds and potential identity theft.
If Bad Things Happen, Where Can You Get Quick Solutions?
If you encounter issues with TradeBaionics or other similar scams, it is crucial to seek professional assistance. You can take our professionals' help. Our free consultation calls and recovery service recommendations can help you navigate the complicated process of recovering lost funds and provide guidance on the best course of action.
File A Complaint
Against Scam Broker's
Final Thoughts
TradeBaionics presents an appealing facade, but careful analysis reveals a disturbing lack of transparency and credibility. Traders should exercise extreme caution and conduct thorough research before engaging with TradeBaionics or any similarly unregulated broker. Protecting your investments and financial well-being should always be a top priority.
You Can Read Our Other Scam Reviews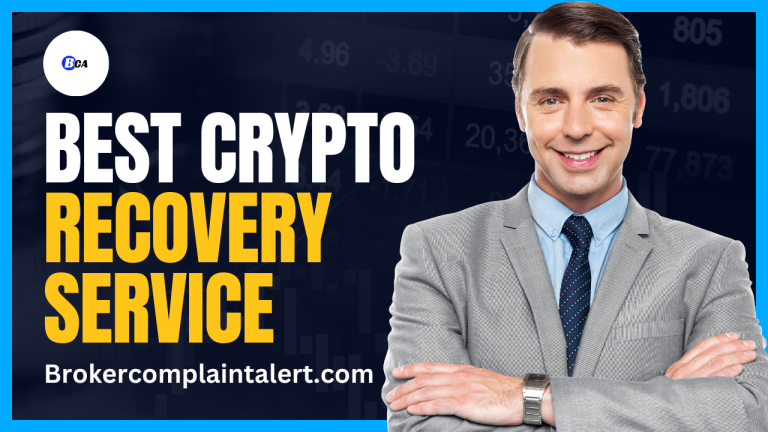 Crypto Recovery: How Can You Recover Stolen Cryptocurrency? In the fast-paced world of cryptocurrency, where fortunes are made and lost in the blink of an
Read More »