United FCG is a forex exchange that doesn't like to give out a lot of information about itself. In fact, we couldn't get any information about the brokerage's trade conditions or the platform it offers to possible clients. Also, there is no information about the company, and the people who run the website stay private.
Company Overview
United FCG is a broker that provides trading with a variety of asset classes, including equities, indices, cryptocurrencies, foreign exchange, and commodities.  According to the terms and regulations, the subsidiary firm in Bulgaria processes card payments and invoices.
Does United FCG Have Any License?
United FCG is not a licensed broker. They did not disclose any information about their license information. We have discovered that Bulgarian law governs all of the terms and conditions. The broker is not subject to regulation by the Bulgarian Financial Supervision Commission or any other regulatory body. Brokers that fail to provide their location or regulatory data are often unregulated, noncompliant with global norms, and unable to ensure the security of their customers' capital.
Is United FCG Regulated By Any Authority?
No, they are not regulated by any governing body or financial authority. Furthermore, United FCG has been warned by the British Columbia Securities Commission: "UFCG purports to be a commodities trading advisory company, providing an online trading platform for Forex, cryptocurrencies, and other securities. It was recently brought to our attention that United Financial Commodity Group, also known as United FCG, had received money to trade with the firm from a resident of British Columbia (BC). In British Columbia, United FCG is not authorized to trade securities or provide advice on exchange contracts.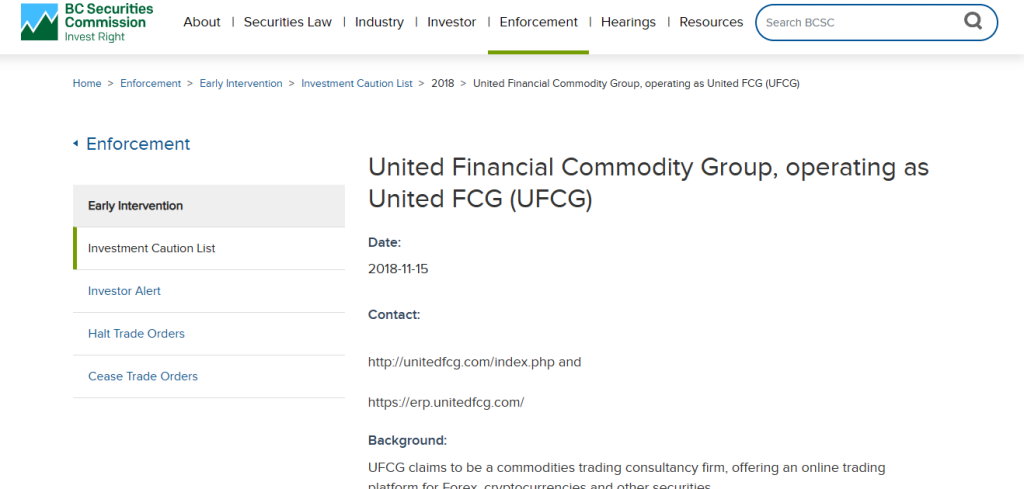 Pros and Cons
Unfortunately, there are far more cons associated with United FCG than pros. Pros are almost non-existent, given the lack of transparency and regulatory oversight. On the flip side, the cons include a lack of licensing, undisclosed fees, and suspicious business practices. Without a doubt, these concerns outweigh any potential benefits.
How Does United FCG Reach To Their Prey?
United FCG employs various tactics to lure unsuspecting traders. These often include enticing advertisements promising quick and substantial profits. Once on their platform, traders are encouraged to deposit funds, with the promise of significant returns. However, this is where the scam begins, as United FCG takes a substantial commission from initial deposits.
Technical Details
Minimum Deposit:
We did not get any information about their minimum deposit amount. They cleverly hide this information from the investors.
Trading Platform:
We did not have the information about their trading platform. They did not publish any information about this.
Spreads and Leverage:
Their website did not disclose any information about their spreads and leverage. 
Packages and Products They Offer
The absence of clear information about their offerings makes it challenging to determine the packages and products United FCG provides.
There's no way for us to know for sure if the company does offer CFD trading since we couldn't sign up for a test account. When we were trying to sign up for an account, we came across some very worrying rules about how to send and take money.

Withdrawal and Deposit Method
The website tells us that clients can pay with Visa, MasterCard, bank transfers, UPayCard, and Entropay.
There are no exit fees listed on the website or in the brokerage's terms and conditions. The only fees listed are the completion and upkeep fees below.
What Do Their Previous Traders Say?
Unfortunately, information about the experiences of previous United FCG traders is scarce. The lack of transparency and the absence of verifiable customer feedback make it challenging to assess the reputation and reliability of this brokerage
Summing Up- Why Should Not You Trust United FCG
United FCG raises numerous red flags, including the absence of licensing, undisclosed fees, and questionable business practices. These concerns highlight the importance of conducting due diligence before choosing a forex broker. It's highly recommended that traders avoid United FCG to protect their investments.
If Bad Things Happen, Where Can You Get The Quick Solution?
If you find yourself a victim of fraudulent practices by United FCG or any other brokerage, there are steps you can take. You can contact your bank or credit card provider to file a chargeback. You also can contact us to get help. Our experts will provide you with a free consultation and service recommendations to help you in recovering the lost funds.
File A Complaint
Against Scam Broker's
Final Thoughts
In the world of forex trading, transparency, trust, and regulatory compliance are of utmost importance. United FCG's lack of licensing and transparency should be a major cause for concern. As a trader, it is crucial to exercise caution, conduct thorough research, and choose regulated and reputable brokers to safeguard your investments and ensure a secure trading experience.
You Can Read Our Other Scam Reviews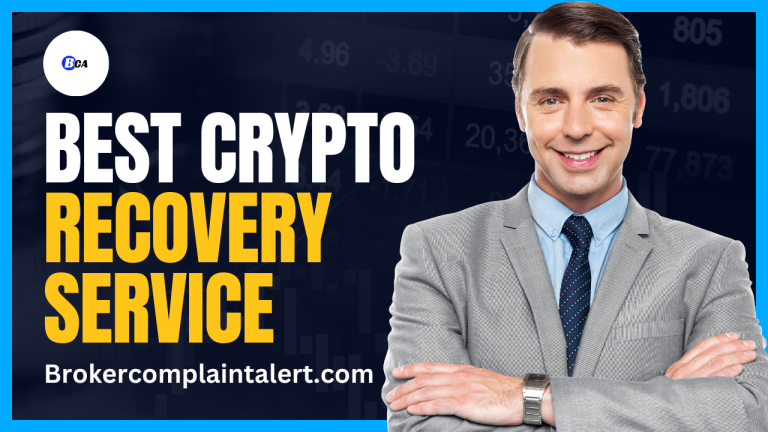 Crypto Recovery: How Can You Recover Stolen Cryptocurrency? In the fast-paced world of cryptocurrency, where fortunes are made and lost in the blink of an
Read More »