AlfaBTC touts itself as a reliable broker with the required authorizations and certificates for offering financial services lawfully. However, history has shown us that we shouldn't put too much faith in such claims. Verification of the facts reveals that AlfaBTC is not at all what it claims to be. Let's examine the indicators that AlfaBTC is just another internet fraud.
Overview
By name, AlfaBTC might be mistaken for a cryptocurrency brokerage. This company actually provides trading in the forex and CFD markets. It regrettably does so without a current financial license.
You can expose the scam and protect your money from this unidentified financial con artist with the aid of our AlfaBTC review.
| | |
| --- | --- |
| Broker status: | Unregulated Broker |
| Regulated by: | Unlicensed Scam Brokerage |
| Scammers Websites: | alfabtc.com |
| Headquarters Country: | UK (allegedly) |
| Foundation year: | 2022 |
| Supported Platforms: | WebTrader |
Is AlfaBTC Regulated?
AlfaBTC doesn't list an owner. No phone or address. The website has simply a general Terms of Use, which does not name a legal organization or jurisdiction.
AlfaBTC claims credibility as a broker since it is a "functional consumer trading branch of a three-way conglomerate of some of the most reputable and recognized corporate crypto trading organizations on the planet."
AlfaBTC also claims to provide "protection by three distinct financial regulatory agencies, notably Finansinspektionen – Sweden, Financial Conduct Authority – UK, Canadian Securities Administrators – Canada".
These assertions are flawed. First, AlfaBTC's website has no relation to these firms or a "tripartite conglomerate" among them.
The brand and domain must be registered and authorized by these authorities to conduct brokerage services. These institutions do not list AlfaBTC.
AlfaBTC cannot function in the UK because the Financial Conduct Authority restricts trading in crypto derivatives, its principal business.
The Investment Industry Regulatory Organization of Canada, not the Canadian Securities Administrators, governs Canadian brokers (IIROC).
AlfaBTC claims to have a certificate from the bogus "Crypto Conduct Authority" on its website.
Warnings From Financial Regulators
Due to the fact that this business was just established in 2022, it has not yet received any regulatory authority warnings. However, given the manner this firm operates, we are receiving reports against it, so it is not too far away from being warned.
What kind of currency pair do they offer?
They are offering:
Forex – EUR/USD, AUD/CHF, GBP/SEK

Commodities – gold, corn, wheat

Indices – DJIA, NASDAQ, FTSE100

Shares – Lufthansa, Adidas, Alibaba
Cryptocurrencies – BTC, LTC, BNB
Customer Support
This broker does not provide any kind of customer service to their clients. They only receive those calls or emails which seems to be wealthy to scam.
What To Do If You Get Scammed by AlfaBTC?
If you get scammed by AlfaBTC, just submit the report to us. We will evaluate the case and will let you know the process of getting your money back.
File A Complaint
Against Scam Broker's
Trading Method (MT4 or MT5)
The most crucial instrument for FX and CFD trading, the software, is not mentioned anywhere on the AlfaBTC website. Due to the need for a reference code, we were unable to determine if account registration grants access to any trading software.
What Do Traders Think Of AlfaBTC?
When we checked traders' reviews on Trustpilot, we got a warning: "We suspect these reviews link to review seller networks that purchase and sell phony reviews."
Forum reviews of AlfaBTC services may be fraudulent. Scammers utilize bots and paid reviews to recruit investors, steal their money, and vanish.
You Can Read Our Other Scam Reviews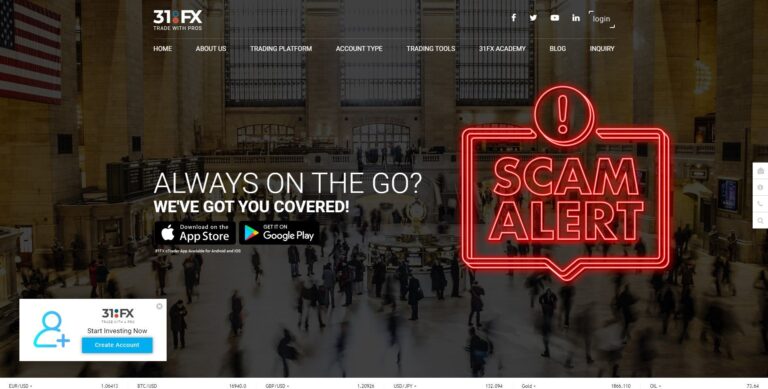 We'll look at the offer that this broker put together for its traders in our 31FX review. Since 2014, 31-FX has been active in the
Read More »
The website of BrisTrades is a total shambles, crammed to the gills with pointless content and ridiculous features. Many aspects of it are damaged or
Read More »
Final Thoughts
You may ask for a chargeback if a similar circumstance arises. However, you may only do this if you made the purchases using a credit or debit card.
FAQ:
Can I make money with AlfaBTC?
No. No one can make money till now with AlfaBTC. They only take the investment but do not give the profit. You can only see the profits in number on the dashboard screen, but when you will try to withdraw that, they will block you.
Can a broker manipulate MT4?
No, it is not possible to the fake MT4 platform. 
Which one is the best trading platform?
MetaTrader 5 is by far one of the most well-liked platforms in the forex market, with a 4,6-star rating, more than 10 million downloads, and 371,000 reviews at Google Play, as well as a 4,7-star rating, and 16 500 reviews at Apple App Store.
Can I buy forex without a broker?
No. If you need to buy forex, you need to join a broker business.
What to do if the police denied taking my scam case?
If the police deny taking your case, you submit a report to us. We can help you to recover the money.