An offshore broker that doesn't look too horrible is Vital Markets. Their website has a respectable appearance and a respectable quantity of information. We received thorough Terms & Conditions as well as access to MetaTrader 4 and MetaTrader 5, the two most well-liked trading platforms. Tight spreads, minimal minimum deposits, and the potential for huge leverage were all among Vital Markets' attractive terms.
Overview
We cannot, however, overlook the fact that this broker is headquartered in a nation where forex brokers are not technically regulated and lack any kind of license. Furthermore, due to a website error, we were not permitted to enter a customer section. The broker may be real, but the chance that it is a fraud is too great to risk it. Instead of incurring unneeded risks, it is preferable to deal with a certified broker.
| | |
| --- | --- |
| Leverage | 1:500 |
| Regulation | None |
| Headquarters | Dominica |
| Minimum Deposit | $10 |
| Review Rating | 1/5 |
| Platform | MT4, MT5 |
| Spread | 0.6 |
Are Vital Markets Regulated?
There is no governing body that oversees Vital Markets. Your funds might be illegally taken by an unauthorized broker. Investors who use this broker's services are not protected, and if anything goes wrong, there is no one to hold them responsible.
Warnings From Financial Regulators
A legitimate regulator is not keeping an eye on the investment firm. As a result, since they are not subject to regulations, unregulated investment firms violate trading laws. Most, if not all, countries have laws that must be followed.
Are Vital Markets Can Be Trusted?
Since Vital Markets' headquarters are in the Commonwealth of Dominica, they qualify as an offshore organization. The laws of Dominica do not recognize forex trading as a distinct line of business, hence there are no regulations that forex brokers must abide by, making this far from the safest site for a financial enterprise.
Additionally, there are no particular specifications for such businesses. Additionally, there are no explicit criteria for transaction reporting, which makes fraud and other illegal acts like tax evasion and money laundering much simpler. There is no question that you may trust the offshore offices of major, global brokerages; not all offshore brokers are con artists.
However, Vital Markets is not a part of such a large brokerage, so if you choose to register an account with them, there are no assurances that you will be treated fairly.
What kind of currency pair do they offer?
Customers have a choice of marketplaces in which to invest:
Forex: USD/NOK, GBP/SEK, and AUD/CAD.
Indices: SPX 500, AUS 200, and BE 20.
Commodities such as natural gas, gold, and corn are examples.
Stocks – Adidas, Amazon, Volkswagen.
Digital currencies – DASH, USDT, and BNB.
Customer Support
You may get in touch with Vital Markets by sending a callback request. There is no guarantee that your question will be answered. You should get a prompt, if not an immediate answer. Once they have your money, scammers stop communicating.
You and the business may develop trust by actively providing customer assistance. Delivering a nice interface without good customer interactions is unlikely. It lacks any pertinent location or addresses information. You need to provide email or phone assistance, Vital Markets.
Trading Method (MT4 or MT5)
MetaTrader 4 and MetaTrader 5 are two of the top platforms that are accessible via Vital Markets. To examine what Vital Markets have to offer, we used the broker's MT4 platform.
Trading on MT4 or MT5 is always enticing, we won't lie. These two platforms are, after all, the greatest in the business. Even though it offers an incredible, highly functioning platform, we cannot recommend trading with this offshore broker since it has not yet shown that it is trustworthy. Furthermore, a lot of trustworthy brokers provide MT4 or MT5, or perhaps both, so you may as well look at a few of them.
The platform has a desktop application for Windows, Linux, and Mac computers in addition to mobile applications for iOS and Android devices and a web-based interface. In fact, individuals who prefer trading on the move find the MT5 mobile applications to be rather popular. For instance, the Android app has been downloaded more than 10 million times and has an average rating of 4.5 from over 372 000 reviews. They also have a devoted user following on the AppStore, where 16 600 reviews have given MT5 an average rating of 4.7/5 stars.
You Can Read Our Other Scam Reviews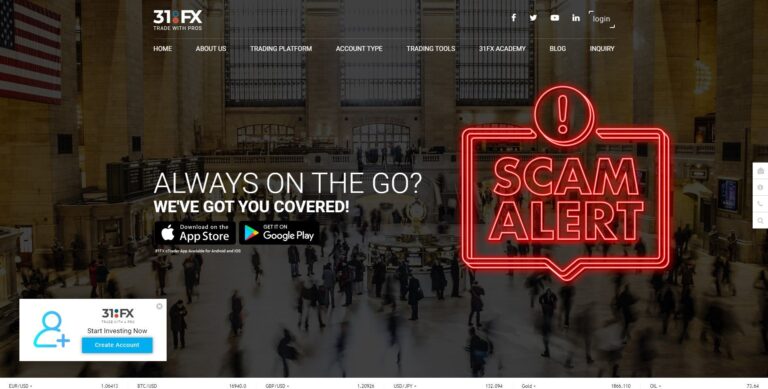 We'll look at the offer that this broker put together for its traders in our 31FX review. Since 2014, 31-FX has been active in the
Read More »
The website of BrisTrades is a total shambles, crammed to the gills with pointless content and ridiculous features. Many aspects of it are damaged or
Read More »
What Do Traders Think Of Vital Markets?
According to Vital Markets, a sizable population is financially benefited. Since there is little traffic, it is unlikely that the information is accurate. Scammers use stock photos of purportedly content investors. The persons whose data is accessible are unaware of Vital Markets.
You are welcomed into a commercial firm via positive remarks. Even pros are paid by scammers to post fake favorable evaluations. Verifiable transaction proof should be included in the testimony. Numerous unfavorable evaluations and warning signs are shown to you. Even the winners of fake prizes in the genuine market are claimed by hoaxers.
What To Do If You Get Scammed?
If you are a victim of Vital Markets' scam, you can directly submit a report to us. Our team will contact you and also analyze your case. Then they will guide you on which recovery service you should choose. We also have legal connections which you can use whenever needed.
File A Complaint
Against Scam Broker's
Final Thoughts
Although Vital Markets stated that deposits and withdrawals were simple, we suggest that you settle down and conduct a further study before making a choice. After all, investing with an unlicensed broker carries risk.