Another offshore broker on the already too-extensive list is Empire FXM. Since we had our doubts about things, we had to investigate the company and get the facts. Read on to see what we found out and how Empire FXM broker wound itself on the Italian watch list.
Overview
Empire FXM is an online trading broker that is based in Majuro, Majuro, Marshall Islands (MH96960) and is owned by Ft Global Financial Ltd.
They have a N/A phone number and [email protected] email address.
Visit empirefxm.com to find their website.
| | |
| --- | --- |
| Website | empirefxm.com |
| Company | Ft Global Financial Ltd |
| Address | Trust company complex, Ajeltake road, Ajeltake island, Majuro, Marshall Island MH96960 |
| Phone | N/A |
| Email | |
| Regulation | Unregulated, Blacklisted, Offshore |
Is Empire FXM Regulated?
Empire FXM is just another offshore broker that cannot guarantee your financial security by offering you a valid license to trade with. The broker has their registration in the Marshall Islands, which is a nation that does not even have a governing body for its financial system. It is possible for virtually anybody to establish a business there through the use of the internet; in fact, you do not even have to travel to the Islands.
In addition, Empire FXM has not supplied any additional contact information save an email address; as a result, we do not know for certain whether or not they have a physical office or whether or not they are located in the Marshall Islands.
If you choose to work with unlicensed businesses like Empire FXM, you won't have access to any of these protections.
Warnings From Financial Regulators
This broker has even attracted the attention of the reputable Italian regulator CONSOB, which believes that the broker is offering services illegally, which automatically makes them a danger to investors.
If you are approached by or come across a domain or website that provides you with the chance to trade online (that is, trade on binary options and/or FX transactions), CONSOB advises that you should first check to see if it is approved. If you are contacted by or come across a domain or website that provides you with this opportunity, you should verify that it is authorized.
Keep in mind that appropriate regulation is of the utmost importance for the safety of your funds, and if your new broker does not have a legitimate license issued by an official regulatory institution such as, for example, the Financial Conduct Authority (FCA) in the United Kingdom, the Cyprus Securities and Exchange Commission (CySEC), or let's say the Australian Securities and Investments Commission (ASIC), it is simply not trustworthy and should not be relied upon.
Is Empire FXM Can Be Trusted?
According to our research and the above information, this platform cannot be trusted. Why should you trust a company which already has a warning from CONSOB and other regulatory organizations? Also, the unreal withdrawal policy and profit-giving method create confusion.
What kind of currency pair do they offer?
The following are the markets that the broker facilitates trading in:
Forex.

Commodities.

Indices.

Shares.

Cryptocurrencies.
The broker is not regulated, despite the fact that the offer is highly compelling. Every single dime that you put away with such a company is in jeopardy.
Customer Support
Empire FXM doesn't have a valid street address. Furthermore, there is no assurance that you can depend on the client assistance offered. Working in customer service promotes more trust between you and the business. Additionally, the entity's website only offers an email address that you may use to contact it.
Empire FXM strives to provide a user-friendly interface, which is difficult to do without good customer service. As soon as they get your money, the firm will probably stop communicating with you. Your question should get a prompt response, if not immediately.
You Can Read Our Other Scam Reviews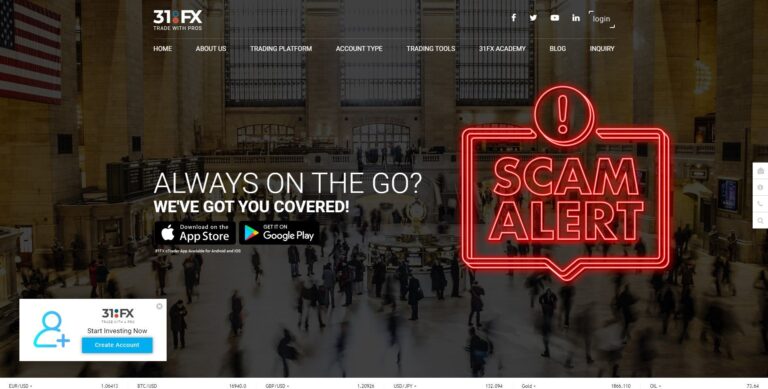 We'll look at the offer that this broker put together for its traders in our 31FX review. Since 2014, 31-FX has been active in the
Read More »
The website of BrisTrades is a total shambles, crammed to the gills with pointless content and ridiculous features. Many aspects of it are damaged or
Read More »
Trading Method (MT4 or MT5)
Empire FXM is able to provide its customers access to a fantastic trading platform in the shape of the widely used MetaTrader 4.
The offer of MT4 is always appealing, but even this fantastic platform is not enough to make this broker appear credible. However, the broker is probably only exploiting this software's strong reputation as a technique of enticing victims.
If you are searching for an MT4 broker, there are many other possibilities that are considerably better. Try out the platform for yourself; however, before you do so, you should make sure that you are able to have faith in the broker who makes it available to you. There is a good reason why MT4 is considered to be one of the most popular platforms in the business: not only does it provide a large number of helpful features, but it is also quite simple to use. MT4 features everything you might want, including Expert Advisors, Virtual Private Servers (VPSs), chances for generating custom scripts, and customized signals that you could set for prices moving up or down.
What Do Traders Think Of Empire FXM?
After completing some research on a variety of social media channels (including Facebook, Twitter, and Instagram), as well as online trading forums, a common pattern emerged in which individuals expressed dissatisfaction with their experience with Empire FXM. It would clear from this customer feedback that Empire FXM is not a trustworthy broker; as a result, one should exercise great care before investing via their brokerage platform.
A significant number of brokers in the industry now do business using fictitious company names or engage in other types of fraudulent activities. When it comes to safeguarding yourself and your assets, even a little amount of prior investigation may go a long way.
What To Do If You Get Scammed?
If you get scammed by Empire FXM, submit a scam report to us. Broker Complaint Alert has experts who can help you to provide proper guidance on how to get back your funds.
File A Complaint
Against Scam Broker's
Final Thoughts
If you have made a deposit using Visa or MasterCard, you should submit a chargeback request as soon as you can. The policies of both card companies permit chargebacks to be submitted within 540 days of the initial transaction. It is considerably less likely that you will be able to retrieve your money if you deposited it in any other method; nonetheless, you should still get in touch with your bank to see if there is anything that can be done about the situation.