TradingTeck's goal is to become a respectable broker, one that is focused on providing a consistent combination of high-quality services and a large amount of trading information to its clients. Despite this, we will never just let our first thoughts of TradingTeck, or any other broker for that matter dictate our ultimate decision. We need to go further than the first few minutes, past how things first seem, and scour every nook and cranny for any indications of anomalies. And this, unsurprisingly, led to certain outcomes that were not what was intended. You can learn all you need to know about this one by reading the review.
Overview
TradingTech is not a genuine foreign exchange broker; in point of fact, it is associated with AceInvesting, which is a different questionable broker. The fact that AceInvesting made use of its Terms and Conditions to prevent customers from withdrawing their money was one of the company's most noticeable features. TradingTech, unsurprisingly, performs the exact same function. The fact that they are both trade names for the same company — Eudaimon Consulting LLC — is what establishes the relationship between the two companies.
| | |
| --- | --- |
| Broker status: | Offshore Broker |
| Regulated by: | Unlicensed brokerage |
| Scammers Websites: | tradingtech.io |
| Blacklisted as a Scam by: | N/A |
| Owned by: | Eudaimon Consulting LLC |
| Headquarters Country: | Saint Vincent and the Grenadines |
| Foundation year: | 2021 |
| Supported Platforms: | Web trader |
| Minimum Deposit: | 250 EUR |
| Cryptocurrencies: | No |
| Types of Assets: | FX, indices, commodities, stocks |
| Maximum Leverage: | 1:500 |
| Free Demo Account: | No |
| Accepts US clients: | No |
Is TradingTeck Regulated?
 It would seem that the company Eudaimon Consulting LLC, which is supposedly registered in Saint Vincent and the Grenadines, is the owner of TradingTech. On the other hand, it would seem that each new broker has been registered under the same number, at the same exact location, and with the same intention, which is to swindle customers. Due to the fact that SVG does not have a financial regulator, we reviewed the FSA record in order to identify whether or not the owner is a real investment business or simply another one of those fraudulent ones. It was shown to be the one located at the back.
Because we now know that the company's owner is not authentic and that the brand is unregulated, we are in a position to provide you the advice that you should steer clear of TradingTech fraud.
Warnings From Financial Regulators
TradingTeck was identified as a potential danger and fraud by a number of regulatory agencies. The Financial Conduct Authority (FCA) in the United Kingdom issued a warning in September of the previous year and then reaffirmed it the month before. It only indicates that an increasing number of individuals are submitting complaints about this unlicensed firm.
The Lithuanian Financial Bureau and the Singaporean Ministry of Finance both issued the same warning.
Is TradingTeck Can Be Trusted?
No, you cannot put your faith in TradingTech for a couple of different reasons. The first of them is that the broker is not licensed. What this entails as well as the reasons why you cannot make money with an offshore broker and why you should instead focus on genuine businesses have previously been covered here.
If you utilize TradingTech's bonuses to make money, that money is deemed non-deposited and cannot be withdrawn. TradingTech does not allow you to withdraw non-deposited cash. However, since there is no way to determine exactly how much money was produced via whatever method, the broker would likely just utilize the provision to prevent customers from withdrawing their money.
What kind of currency pair do they offer?
TradingTech gives customers access to a leverage that can go as high as 1:200. Naturally, such large amounts are prohibited in the majority of countries around the world in the modern era; however, brokers like TradingTech use them to entice more customers. Because of this, you should exercise extreme caution when dealing with high leverage.
Customer Support
There is no active customer support service on the website. They even don't mention any hotline number. They have a chat option that replies to a bot. A pure indication of a scam platform.
Trading Method (MT4 or MT5)
The Trading program is nothing to be really excited about, and in fact, we often had difficulties simply getting it to function properly. Although it was sluggish and reactive, it did have several useful features, such as price notifications, social trading, market trend, and others.
However, the charts that are shown on the terminal do not belong to TradingTeck but rather to a third-party chart provider that has the same amount of involvement with TradingTeck as we have. This was the most significant problem that we encountered with TradingTeck.
What we are unable to state with absolute certainty is if the trading conditions are a part of TradingTeck's own liquidity pool or whether the chart widget third-party supplier brought their own terms with them. In any event, this is just more reason why you should not place your confidence in this broker.
In the policy for the execution of orders, it is stated that some assets have been commissioned. The clause, as is customary, does not specify which ones are included. On the other hand, the website makes no mention of any spread commissions whatsoever.
You Can Read Our Other Scam Reviews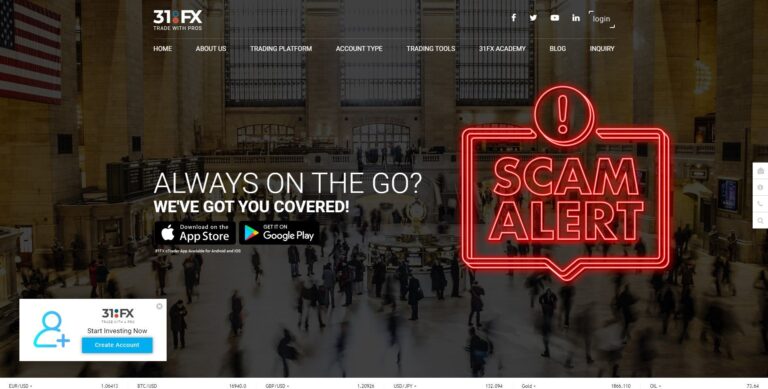 We'll look at the offer that this broker put together for its traders in our 31FX review. Since 2014, 31-FX has been active in the
Read More »
The website of BrisTrades is a total shambles, crammed to the gills with pointless content and ridiculous features. Many aspects of it are damaged or
Read More »
What Do Traders Think Of TradingTeck?
Accounts that have been frozen, the difficulty to withdraw money, deposits that have been stolen, and bogus transactions. These are just a few of the problems that TradingTech customers are reporting to the company. Their primary concern is determining whether or not they can get their money back in the event that the broker does not agree to the refund. The answer to your question is yes, it is feasible; however, you will need the appropriate instruments as well as the appropriate help.
What To Do If You Get Scammed?
If you get scammed by TradingTeck, just submit a report to us. Our experts will contact you and they will guide you on how to recover from that scam.
File A Complaint
Against Scam Broker's
Final Thoughts
A con like this may take advantage of anyone. There are a few things you can do in the sad event that anything like this takes place to you. If you made your deposit using a credit card, you should submit a chargeback request as soon as possible.