The Cash FX Group is managed by a business called CFxG, which was purportedly created by a group of professionals in many different fields, including network marketing and education in the area of financial trading.
You will allegedly be able to earn a lot of money with the aid of these professionals and their automated trading method. Only in trading is it stated that you may earn 15% weekly on your assets. Then there are multi-level systems and referral schemes that may increase your revenue even more. Ist das so?
Overview
An MLM organization called Cash FX Group offers you the chance to make money via the company's guaranteed ROI and referral rewards. Financial trading education levels that indicate the cost per level that a person joins are available as an investment opportunity via the firm.
| | |
| --- | --- |
| Broker status: | Unregulated Broker |
| Regulated by: | None |
| Scammers Websites: | www.cashfxgroup.com |
| Blacklisted as a Scam by: | FCA, FSCA, CB of Ireland, FMA |
| Owned by: | Huscar Lopez – CFxG. |
| Headquarters Country: | Panama City, Panama |
| Foundation year: | 2019 |
| Supported Platforms: | CFX, Expert Advisor algorithms, and AI technology |
| Minimum Deposit: | $300 |
| Cryptocurrencies: | Yes, BTC, ETH, etc. |
| Types of Assets: | Forex pairs, cryptocurrencies, commodities, indices, shares |
| Free Demo Account: | No |
Is CashFX Regulated?
Broker Cash FX Group is based in Panama, an offshore nation with lax financial sector regulation. Back in 2016, the terrible Panama Papers scandal made headlines all year long and shocked the globe. The Central American nation apparently made some improvements after the abject disaster. 
But given that they let a legitimate Panamanian corporation conduct questionable operations that may potentially constitute fraud, we can see that they have hardly made any progress. If a broker wishes to operate from the nation, there is a minimum capital requirement of $150 000, but it is startling how few additional client protection measures exist.
Warnings From Financial Regulators
Cash FX Group is as transparent as mud, and we strongly suggest that you steer clear of them! The Financial Conduct Authority (FCA), which is the British financial regulator, is in agreement, and they have issued an official warning saying that Cash FX Group is a broker that should be avoided. Also, FMA (Newzealand), and FSCA (South Africa) issued their warnings too.
Is CashFX Can Be Trusted?
Because your money would not be safeguarded in any way if you deposited it with an unregulated and essentially anonymous business, doing so would be incredibly foolish advice to follow. This software guarantees you returns on investments that are unattainable, which is evidence in and of itself that something is not right with it, regardless of where the money ultimately ends up.
What kind of currency pair do Cash FX offer?
They mainly offer educational services on trading and also profit schemes based on Bitcoin.
Customer Support
There is no specific information on their customer support service. They have no valid contact information on the website.
Trading Method (MT4 or MT5)
Trading through a MetaTrader4 or MetaTrader5 account is not possible with Cash FX Group. Metatrader is the most popular Forex trading platform in the world. It offers a wide variety of advanced tools, including Expert Advisors, Algo Trading, and Complex Indicators, as well as its very own programming language, MQL, and even a marketplace. Because there is such a wide variety of trading resources available, we strongly suggest that traders search for legitimate MT brokers.
You Can Read Our Other Scam Reviews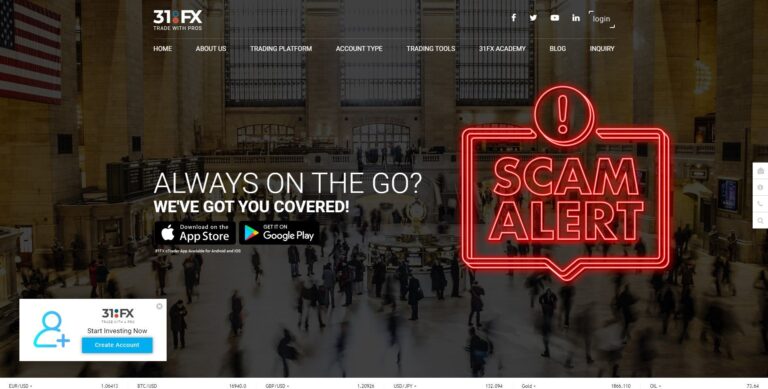 We'll look at the offer that this broker put together for its traders in our 31FX review. Since 2014, 31-FX has been active in the
Read More »
The website of BrisTrades is a total shambles, crammed to the gills with pointless content and ridiculous features. Many aspects of it are damaged or
Read More »
What Do Traders Think Of CashFX?
Following everything that has been stated thus far, we do not believe it is necessary to provide any further proof that Cash FX Group is operating a scam. On the other hand, we have also considered what the investors have to say. None of them are satisfied with their experience, and almost all of them are unhappy with the withdrawal symptoms they are experiencing. Due to the fact that the CashFX regulation is, at best, dubious, nobody would require a broker to return funds that were stolen.
What To Do If You Get Scammed?
If you believe that a Cash FX broker has defrauded you, we may be able to assist you. It's unfortunate that these things happen, but if you respond effectively and in a timely manner, you can handle them just fine. Please let us know what the situation is, and we will take it from there.
Create a free account with our website, describe the nature of the problem you are experiencing, and provide us with the paperwork we need so that we can do all in our power to assist you in regaining access to your cash.
File A Complaint
Against Scam Broker's
Final Thoughts
The Cash Forex Group is a vicious Ponzi scheme that is about to be exposed as a fraud. Steer clear of it since there are no rules governing it.