If you've come across an FX Capital Group broker and are unsure if the company in question is a genuine investment business or just another scam, the following article will provide you with the answer. Learn all there is to know about the FX Capital Group by reading our assessment of the firm.
Overview
Trading cryptocurrencies is the primary focus of the FX Capital Group platform, which can be found online. They supposedly allow each customer to a different analyst who can assist them in increasing their profits. The first statement made by the creature serves as a source of motivation. How we long for the day when the scheme will deliver what they promised to traders. Sadly, this is nothing but another money-losing scam waiting to happen.
| | |
| --- | --- |
| Broker status: | Unregulated Broker |
| Regulated by: | Unlicensed brokerage |
| Scammers Websites: | www.fxcapitalgroup.io |
| Blacklisted as a Scam by: | N/A |
| Owned by: | N/A |
| Headquarters Country: | Switzerland (allegedly) |
| Foundation year: | N/A |
| Supported Platforms: | Web trader |
| Minimum Deposit: | 250 EUR |
| Cryptocurrencies: | Yes |
| Types of Assets: | FX, stocks, commodities, indices, cryptocurrencies |
| Maximum Leverage: | 1:500 |
| Free Demo Account: | No |
| Accepts US clients: | Yes |
Is FX Capital Group Regulated?
No. FxCapitalGroup is a relatively unknown broker that conceals important information about itself and conducts its business without a valid license. Choose a legitimate source of financial services instead, and while you're doing it, why not choose one from a list of brokers licensed in the UK? That's what we'd recommend.
The only information that we were able to locate on Fx Capital Group was an address in Zurich, which is located in Switzerland, as well as multiple phone numbers. Aside from that, there is no indication of a firm name, a registration number, or any other information about licensing.
It should come as no surprise that several con artists are attempting to swindle traders by pretending to be Swiss-based brokerages, given that Switzerland is widely recognized as a leader in the provision of financial services. In spite of this, you should be aware that the Swiss Financial Market Supervisory Authority (FINMA) only issues licenses to a negligible fraction of the businesses that apply for them. This is mostly due to the minimum capital requirement of 200,000 CHF.
Therefore, it is quite evident that Fx Capital Group does not possess any such license; therefore, if they operate in Switzerland or on any other regulated market, they are doing so in violation of the law.
Warnings From Financial Regulators
Naturally, if FX Capital Group were a firm based in Switzerland, it would be in possession of a license issued by the FINMA, the governing body of the country's federation. To demonstrate that it is financially stable enough to participate in the risky foreign exchange markets, the broker will need to demonstrate that it has liquid funds totaling more than 20 million CFH (about $22 million at the time of writing). It goes without saying that if the business did in fact meet this stringent condition, it would not fail to disclose that it had a license; instead, the topic of regulation is never even mentioned on the website of FX Capital Group.
Is FX Capital Group Broker Can Be Trusted?
No after providing enough information about being an unregulated company that has no regulation and no permanent address for contacting, this platform cannot be trusted.
What kind of currency pair do FX Capital Group offer?
You can trade forex pairs, commodities, and cryptocurrency right now.
Customer Support
The FX Capital Group website has many locations located in a variety of countries. According to the information provided, the organization operates out of many locations including the United Kingdom, Canada, Australia, France, and China. Additionally, it has offices in the countries of Germany, Italy, Hong Kong, Poland, Singapore, and Russia. In spite of this, the only address that can be found on the website is one in Switzerland.
There is no way for us to verify whether or not it was chosen at random. Having said that, taking into consideration the nature of this nefarious company, we have our doubts that this is the genuine operational region of the endeavor. Investors may get in touch with the business either by email or by phone. Ponzi schemes do not acknowledge the telephone calls made by their customers.
Trading Method (MT4 or MT5)
Although FX Capital Group clients have access to the distribution of Metatrader 5, the industry-standard platform that the broker makes accessible is branded by a different firm entirely.
We are unable to state that the platform is associated in any way with FX Capital Group; however, the broker does offer a much more restricted distribution of a web-based trading platform. This platform does not include many of MT5's features, such as automated trading, and thus is not comparable to MT5.
The trading conditions provided by the broker are pretty bad; for example, the firm provides spreads of more than 1 pip on foreign exchange majors such as the EUR/USD, which is just not competitive in today's market. Its leverage is set at a constant 1:25 across all asset classes, and FX Capital Group also enables trading in cryptocurrency contracts for difference (CFDs), which, when accessible, have leverage that is no more than 1:5 with legal brokers.
You Can Read Our Other Scam Reviews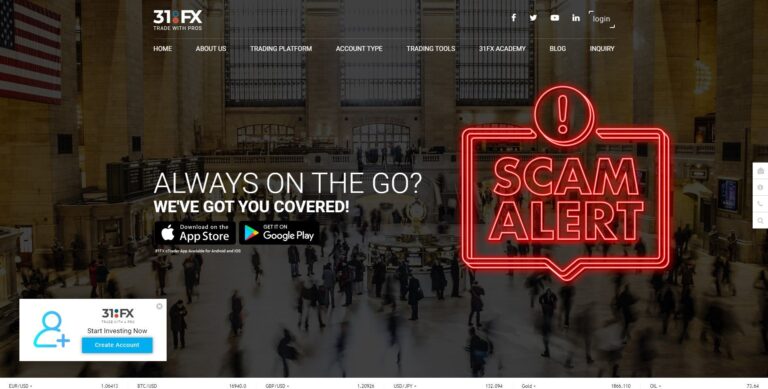 We'll look at the offer that this broker put together for its traders in our 31FX review. Since 2014, 31-FX has been active in the
Read More »
The website of BrisTrades is a total shambles, crammed to the gills with pointless content and ridiculous features. Many aspects of it are damaged or
Read More »
What Do Traders Think Of FX Capital Group?
A common theme regarding users' dissatisfaction with FxCapitalGroup.io emerged after conducting research on a number of social media platforms (Facebook, Twitter, Instagram), as well as online trading forums. It would seem from the comments provided by other users that FxCapitalGroup.io is not a reliable broker; as a result, great care should be used prior to making any investments using their brokerage platform.
What To Do If You Get Scammed?
If you think you are a victim of FX Capital Group's scam, just submit a report to us. We will provide you with a free consultation and proper guidance on how to recover the money. We will also recommend you some affordable and reputable scam-recovering companies, that will help you on getting your money back.
File A Complaint
Against Scam Broker's
Final Thoughts
The FX Capital Group business model is very high-risk. Dealing with the broker or any other company that does business in this way is something that investors should avoid at all costs. They do not possess a license, and the justification they provide for their lack of one is flimsy. The platform is a fraud that is going to fail, leaving investors with no return on their money.