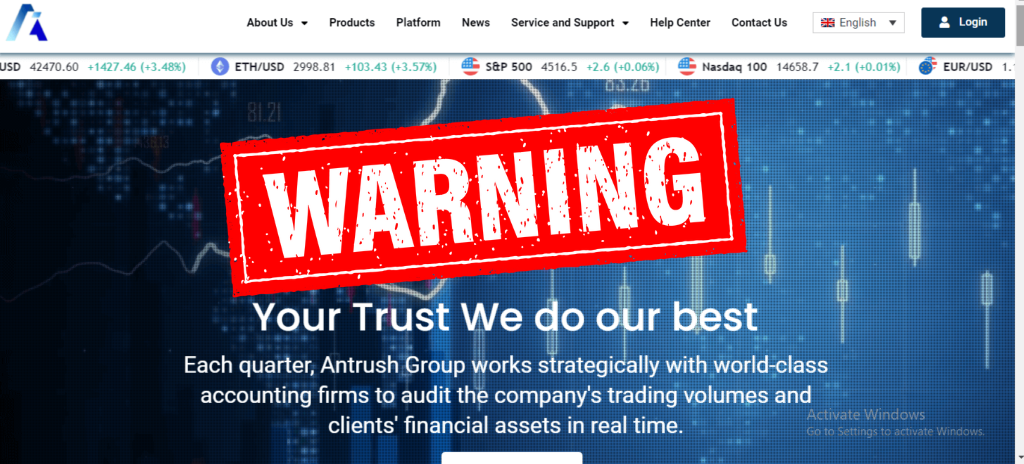 Antrush broker is a relatively young player in the market for financial services. At first blush, it seems like the perfect company, what with its locations in Australia, Canada, and the United States, as well as its regulation by ASIC. The question therefore is, why are there so many bad comments about this company on Reddit and other forums of a similar nature?
Overview
| | |
| --- | --- |
| Website | antrush.com |
| Company | Antrush Group Pty Ltd |
| Address | N/A |
| Phone | N/A |
| Email | |
| Regulation | Unregulated, Scam |
Is Antrush Regulated?
The organization genuinely mentions elsewhere on its website that it provides corporate finance services to businesses and investment banks located in the United States of America, New Zealand, and Australia. This does not come up ever again, as far as we are concerned, and there is no evidence to back this claim. Antrush was completely unaware of the fallacy of this assertion. In the next line, foreign exchange is discussed once again, almost as if what the company had stated was a stutter.
Next, we came across a claim that said the company has been granted permission to operate by unnamed financial institutions in the United States. The question is, which of them are these? Who is the CFTC? What about the NFA? The regulation of foreign exchange companies is handled by these two organizations. It is clear that there is no information on an Antrush available with them.
In addition, there is no street address provided. Now, why on earth would that be the case? in order to avoid being tracked down? Bingo!
Then, all of a sudden, we came across a purported ASIC licensing claim as well as a FinCEN license claim. The assertion made by ASIC is baseless since it was not anticipated. A division of the Treasury Department of the United States, FinCEN stands for the Financial Crimes Enforcement Network. Because it is unable to give FX licenses, this assertion is wholly and entirely incorrect.
All of this leads us to the conclusion that the broker is most likely nameless, which puts the foreign exchange company in the worst possible position to be in. All anonymous brokering services are certain to be fraudulent.
Antrush is not subject to any regulations, and as a result, it poses a threat to investors.
Warnings From Financial Regulators
Antrush is able to persuade its customers that it has a license from the Australian organization. They also claim to have offices in the United States of America, Canada, and New Zealand. Because of the stringent regulations governing these spheres, brokers are required to have substantial financial resources. They are unauthorized entities since they are operating a business without the required license.
The United States system of financial oversight is considered to be among the most stringent worldwide. In order to get the regulatory form, a company is required to make a capital deposit of $20 million. In addition to that, it is required to submit the names of the corporate and financial managers who will be supervising the investment activities. In this way, the agency will know who to go after in the event that things do not go as planned.
Sadly, Antrush is not subject to the supervision of a watchdog. They are doing things on their own without assistance. The company does not provide the authorities with a summary of the daily transactions that it processes.
Is Antrush Can Be Trusted?
From the above details, we can easily say that this cannot be trusted. As they don't have any regulations and any trusted contact information, investors' money can be at risk.
What kind of currency pair do they offer?
The following financial products are available for trading with Antrush:
Forex currency pairs like AUD/USD, USD/JPY, and NZD/USD

Commodities include crude oil and many types of metals.

Cryptocurrencies (Cryptos such as BCH, BTC, and ETH).
Strangely enough, there are no shares or indexes available. And there is another major drawback to the situation.
Customer Support
The firm boasts that it provides the industry's superior services. The customer service personnel is able to reply in a timely manner and supports several languages. You may communicate with them via a variety of different means. Additionally, the platform asserts that it has sufficient personnel resources. They hire people from over 100 different nations, and those people are able to converse in over 30 different languages.
The Antrush crew has been able to visit more than 60 different cities. Because of this, they have gained cutting-edge benefits in understanding the requirements of their customers. No matter how much money a consumer puts up, they will always be treated with respect by the business.
The information is deceiving since we do not even know where the entity that is being discussed is functioning from. After they have left the market, they will end all forms of contact. Recovering lost funds while dealing with fraudsters is difficult. In the same vein, the email will not be responded to.
Trading Method (MT4 or MT5)
Metatrader 5, the industry standard trading platform, is available to users of Antrush, making it the greatest platform available. However, we do not believe this to be a compelling enough incentive to engage in business with Antrush. Due to the broker's lack of any kind of licensing, they are unable to give access to a service that is comparable to others in the market. Additionally, the company is not the only broker that has access to the program; there is an abundance of completely legal businesses that also sell it. The company is not the only broker that has access to the software.
As was previously stated, MT5 is highly regarded among traders. That is due to the fact that it has a user-friendly interface and excellent automatic trading tools – this means that trading using the program is a good idea; however, trading on Antrush's terms is not a good idea!
What Do Traders Think Of Antrush?
After doing some research on several social media sites (Facebook, Twitter, and Instagram), as well as online trade forums, a broad pattern arose in which consumers were disappointed with their experience with Antrush. These individuals expressed their dissatisfaction using the following phrases: It would seem from this customer feedback that Antrush is not a trustworthy broker; as a result, great care is required prior to making any investments using their brokerage platform.
A significant number of brokers in the industry now do business using fictitious company names or engage in other types of fraudulent activities. When it comes to safeguarding yourself and your assets, even a little amount of prior investigation may go a long way.
You Can Read Our Other Scam Reviews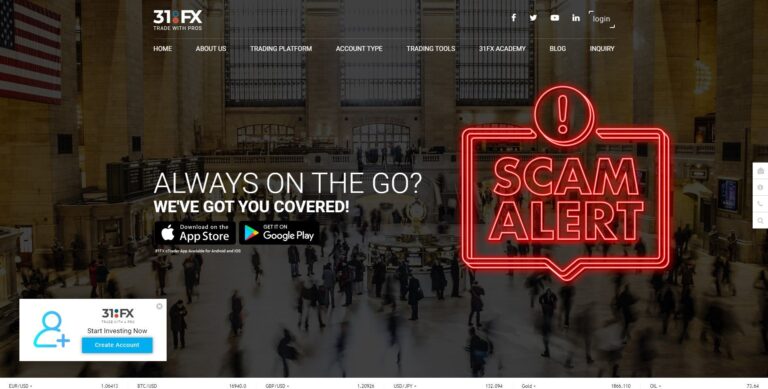 We'll look at the offer that this broker put together for its traders in our 31FX review. Since 2014, 31-FX has been active in the
Read More »
The website of BrisTrades is a total shambles, crammed to the gills with pointless content and ridiculous features. Many aspects of it are damaged or
Read More »
What To Do If You Get Scammed?
Chargebacks are the method that is supposedly the safest for collecting your payments; nevertheless, many fraudulent brokers will take preventative steps to prevent chargebacks from occurring. However, there is no harm in giving it a go! The chargeback window for both MasterCard and VISA is 540 calendar days.
The crew at Broker Complaint Alert has expertise dealing with trading scam businesses, and they will be able to assist you in beginning the chargeback procedure. Because there is a time constraint on the treatment, it is very necessary to get started immediately away.
File A Complaint
Against Scam Broker's
Final Thoughts
Antrush is a cause for concern. The scam is a Ponzi scheme that is looking to steal money from inexperienced investors. There is not a single distinguishing quality that the firm has. Scammers have one one objective, and that is to deceive unsuspecting investors. We are not familiar with the terms of the trade. However, given that the company is not currently engaged in trade, you should not expect to find very good discounts.