"Professional CFD trading method." This is the scam broker's catchphrase, which can lead you to believe they are trustworthy. We believe in giving credit where it is due, so we'll remark that STB Markets broker made an attempt to build a website that is at least somewhat attractive and has sufficient details regarding the trading process.
Overview
The headquarters of STB Markets' online trading broker STB Markets are at 177 Shaftesbury Avenue in London, United Kingdom (WC2H 8JR).
They may be reached at [email protected] or by phone at +447418376781.
You may find their website at stbmarkets.com.
| | |
| --- | --- |
| Website | stbmarkets.com |
| Company | STB Markets |
| Address | 177 Shaftesbury Avenue, London, WC2H 8JR United Kingdom |
| Phone | +447418376781 |
| Email | [email protected] |
| Regulation | Unregulated |
Are STB Markets Regulated?
We don't have a lot of information regarding the broker STB Markets. According to legal records, the arrangement was struck between customers and an unnamed business. Furthermore, neither the court that will decide on possible disputes nor the controlling legislation is named.
All of this led us to question the regulation of STB Markets. As soon as we saw a London address, we assumed that this brokerage was listed on the FCA registry. After scanning this and other Tier 1 databases, such as ASIC, BaFin, CONSOB, and CNMV, we came up empty-handed.
Warnings From Financial Regulators
It is true that this firm is not registered with any of these authorities, despite the fact that FCA, ASIC, CONSOB, and CNMV have not released any warnings against it. This business is not in possession of a Tier 1 license from those authorities.
What kind of currency pair do they offer?
The brokerage provides a wide range of CFDs, such as:
Currency pairs – EUR/USD, GBP/AUD, CAD/NOK
Commodities – gold, silver, corn
Indices – DJIA, NASADQ, FTSE100
Shares – Amazon, Asus, Nvidia
Cryptocurrencies – IOTA, BNB, USDT
NFTs – Nyan Cat, CryptoPunks, Bored Ape
Customer Support
This company does not have any customer support service. If you call their number, they will not receive the call nor they will not reply to the email.
Trading Method (MT4 or MT5)
The trading software used by this brokerage business is the subject of a separate section. The user dashboard, deposit page, primary trading screen, and widgets are all shown and briefly discussed. But after you create an account, there is just one STB Markets trading platform available—a straightforward WebTrader.
This program cannot be compared to outside trading systems like MT4, MT5, or cTrader while being quite basic and straightforward. But none of them are accessible via STB Markets. Instead, you will have to make do with a straightforward platform and basic TAs.
You Can Read Our Other Scam Reviews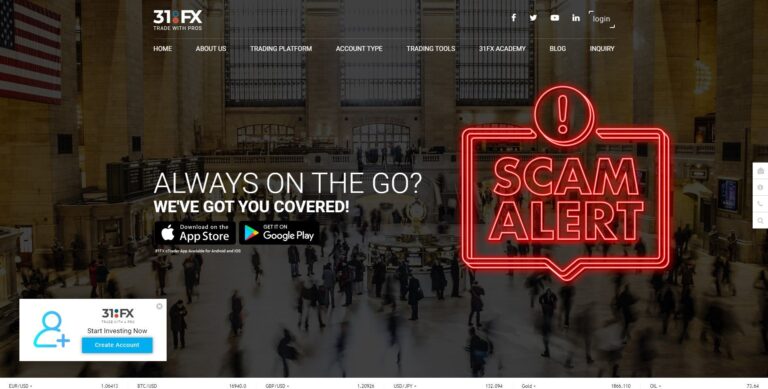 We'll look at the offer that this broker put together for its traders in our 31FX review. Since 2014, 31-FX has been active in the
Read More »
The website of BrisTrades is a total shambles, crammed to the gills with pointless content and ridiculous features. Many aspects of it are damaged or
Read More »
What To Do If You Get Scammed by STB Markets?
If you get scammed by STB Markets, don't hesitate, to submit a report to us. We will evaluate the case and will provide you with a free consultation and will guide you through the process of fund recovery.
File A Complaint
Against Scam Broker's
What Do Traders Think Of STB Markets?
After researching STB Markets on Facebook, Twitter, Instagram, and online trading forums, a common tone emerged: customers were unhappy. Based on customer reviews, STB Markets looks to be a dishonest broker, thus investors should proceed with care.
Final Thoughts
Imagine you have been the victim of a trading scam and are unable to get your money back. If you get in touch with Broker Complaint Alert, we may be able to help with the recovery process.
FAQ:
1. Can I make money with STB Markets?
No, the only you can do is risk your money. There is no history that their client receiving their payments after making profits. They will let you withdraw at the initial stage to make you interested. But finally, you will not get a penny.
2. Can a broker manipulate MT4?
No, it is not possible to manipulate the MT4, they can use another company's platform to show to the client, but cannot make them fake.

3. Which one is the best trading platform?
Despite the fact that the MetaTrader5's creator, MetaQuotes, no longer updates it, the MT4 still has a bigger trading volume than the MetaTrader5. Additionally, the MT4 Android app has been downloaded more than 10 million times and has received an average rating of 4.6 out of 5, while the MT4 App Store page now has approximately 61 000 reviews and a rating of 4.8/5.|


4. Can I buy forex without a broker?
No, you need to go through a broker service to buy forex. This is the regulation for every forex buyer.
5. What to do if the police denied taking my scam case?
You can take help from private organizations such as Broker Complaint Alert.