One may immediately see that the broker is a liar by looking at the Adar Capital website. There is no licensing, and their legal records are naive and include contradictory data.
Overview
Sonorous Group LLC owns ADAR Capital, an online trading broker with offices on the first floor of the First St. Vincent Bank Ltd. building in Kingstown, St. Vincent, and the Grenadines.
Only [email protected], [email protected], and [email protected] are valid email addresses to get in touch with them.
You may access their websites at adarcapital.pro and adar.capital.
Website

www.adar-capital.com

Company

Sonorous Group LLC

Address

First floor, First St Vincent Bank Ltd Building, James Street Kingstown, St. Vincent, and the Grenadines

Phone

N/A

Email

[email protected]

,

[email protected], [email protected]

Regulation

Unregulated, Blacklisted, Offshore, (Clone of FCA Authorised firm)
Is Adar Capital Regulated?
St. Vincent and the Grenadines-based Sonorous Group LLC owns forex broker Ador Capital. As a result, we are no longer optimistic that we will discover control of Adar Capital.
Since the FSA directive in 2021, SVG has gained a reputation as a hub for unlicensed trading companies. It states that brokers must obtain a license in the country where they are doing business as the Financial Services Authority no longer licenses Forex and CFD trading.
Naturally, we looked through Tier 1 databases, but without results. Additionally, this brokerage provides leverage up to 1:500, which is strictly prohibited by ESMA regulations. All brokers who offer their services within the EEA zone are required to keep their leverage at a maximum of 1:30.
Warnings From Financial Regulators
Adar Capital is being warned by the FCA. It describes the cloning scheme we previously mentioned, stating that the company has been providing its services while impersonating a legitimate business. We are left wondering where Adar Capital actually operates from if it has been misrepresenting itself as a UK broker. Fortunately, the company's website had its actual address.
What kind of currency pair do they offer?
Customers get access to four markets via Adar Capital.
Currency pairs – EUR/USD, AUD/CAD, GBP/SEK

Commodities – gold, natural gas, coffee

Shares – Alphabet Inc, Amazon, Coca-Cola
Indices – S&P500, NASDAQ, FTSE100
Customer Support
They don't have any customer service to support their customer. You can only contact them through email. Though they usually don't reply to any emails.
What To Do If You Get Scammed by Adar Capital?
If you get scammed by Adar Capital, contact us. We are here to help you with a free consultation and the recommendation of some good recovery company to recover the money.
File A Complaint
Against Scam Broker's
Trading Method (MT4 or MT5)
WebTrader is provided by Adar Capital. It allegedly comes with extensive charting capabilities, four distinct ways to execute transactions, and an automated trading system.
What Do Traders Think Of Adar Capital?
According to their customer feedback, ADAR Capital does not seem to be a reliable broker, hence extra care should be used before making an investment using their brokerage platform.
You Can Read Our Other Scam Reviews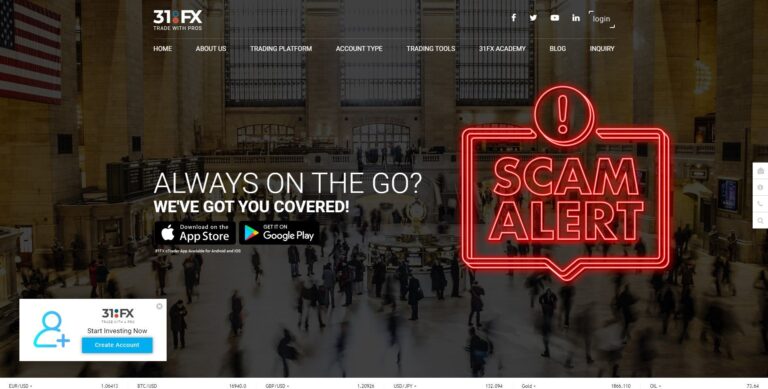 We'll look at the offer that this broker put together for its traders in our 31FX review. Since 2014, 31-FX has been active in the
Read More »
The website of BrisTrades is a total shambles, crammed to the gills with pointless content and ridiculous features. Many aspects of it are damaged or
Read More »
Final Thoughts
Don't be upset if ADAR Capital caused you to lose money. There have been others before you, and there probably will be more. Even the most diligent investors sometimes make mistakes, which should be seen as a teaching opportunity.
FAQ:
Can I make money with Adar Capital?
No, it is not possible to make money with a scam company like Adar Capital. They are not regulated and they don't have any proven record that any single customer made a profit from them and they can withdraw the money.
Can a broker manipulate MT4?
Yes. Like other elements of the Forex market, MT4 is susceptible to manipulation. As a result, traders need to exercise caution and maintain awareness.
Which one is the best trading platform?
MetaTrader 5 is a popular trading platform for foreign exchange (Forex) and particularly contracts for difference (CFDs). It is more powerful than the MetaTrader 4 platform, featuring improved social and copy trading functions, as well as improved functionality for backtesting and analysis.
Can I buy forex without a broker?
Through P2P currency exchange services like TransferWise or other money exchange locations online or in person, it is possible to trade forex without a broker. The spreads using these services are much greater than those when dealing with a forex broker. Day trading is not feasible since the trading is not conducted in real-time.
What to do if the police refused to take my scam case?
If the police refused to take the scam case, just submit a report to us. We will evaluate the case and will help you with a free consultation on how to recover the lost money.