The very name of this broker gives the impression that working with them would be a breeze. Nevertheless, there are a few warning signs that we are unable to ignore, as well as a few issues that make investing with Investing Dream a terrible idea. Learn all you need to know by reading our review.
Overview
The Investing Dream website claims to provide protection for the VIP class and the best possible trading circumstances. However, the broker is not regulated, and there is no public information about how the firm operates, so there is no reason to trust any of this or to invest with a company that operates in this manner.
| | |
| --- | --- |
| Broker status: | Offshore Brokerd |
| Regulated by: | Unlicensed brokerage |
| Scammers Websites: | investingdream.com |
| Blacklisted as a Scam by: | CNMV, CMVM, FSMA, Finanstilsynet |
| Owned by: | Mikato Trade LLC |
| Headquarters Country: | Saint Vincent and the Grenadines |
| Foundation year: | 2021 |
| Supported Platforms: | WebTrader |
| Minimum Deposit: | N/A |
| Cryptocurrencies: | Available |
| Types of Assets: | FX, commodities, indices, shares, futures, cryptocurrencies |
| Maximum Leverage: | 1:500 |
| Free Demo Account: | Yes |
| Accepts US clients: | No |
Is Investing Dream Regulated?
It would seem that the company's headquarters are located in Saint Vincent and the Grenadines. Mikato Trade LLC is the trade that the parent firm engages in as its parent trade. The nation's regulatory body does not exercise any kind of oversight over the investing operations of internet businesses.
Because of this, the region has developed into a center for several Ponzi scams. They do business in whatever manner they see fit and do not adhere to any restrictions. The company Investing Dream does not have a very good reputation, and people don't really trust it. It would seem that nobody has any interest in their fraudulent operations.
Given that the required amount of capital has not been deposited by the company, it is very probable that the company will be unable to continue engaging in investing operations. Customers will not be compensated in the event that they choose to withdraw from the market at this time. One further thing to keep in mind is that offshore businesses often modify their terms and conditions without first engaging their clientele.
The authority does not get the transactional report that is generated by Investing Dream. In addition to this, we discover that they do not own a trading interface. Consequently, they are more likely to be fabricating numbers in order to win over more victims. The efforts to withdraw their funds will run into a brick wall.
If you want to engage in profitable trading, we suggest that you stick to the genuine investment businesses that are now available on the market. You will not have to deal with a large number of difficulties while taking advantage of a large number of benefits.
Warnings From Financial Regulators
To begin, we will elaborate on the regulatory difficulties that have been raised with Investing Dream, in particular the warning that was issued against it by the CNMV, which is Spain's financial authority.
Investing Dream has been offering financial services in Spain without holding any type of licensing, but what's even more concerning is that brokers who get up on such warning lists are often engaged in some form of fraudulent activity.
When there is a whole ocean full of reputable brokers, such as ones that do not participate in fraudulent operations and that give their customers major guarantees for the safety of their cash, there is no valid reason for anybody to invest with Investing Dream.
Is Investing Dream Can Be Trusted?
I'm sorry, but it is not possible. Putting your money in Dream will result in complete financial ruin. Considering that this is an anonymous broker, there is not much that can be done about it. It is clear that the website was only just launched since the domain was just registered. We will not be able to evaluate the performance of the platform until we get trade outcomes.
In addition, the company does not get feedback from its customers. You should not ignore such inconsequential particulars. You may avoid the hassle of dealing with con artists by learning from the experiences of other people beforehand. The security of the funds is not something that should be taken lightly.
The broker is an offshore company, and the company does not make an effort to offer enough information on its business operations. A cautionary note on the firm that is overseeing the activities of the joint has been issued by the Spanish financial regulator.
What kind of currency pair do they offer?
The following is an overview of the various markets and trading instruments. You are able to make investments in:
Pairs of currencies

Commodities.

Indices.

Shares.

Cryptocurrencies.

Futures.
Customer Support
The Investing Dream program is a sophisticated Ponzi scam that conceals the geographic location of its operations. It is completely pointless to attempt to go after the crooks. Why would you trust such a broker with the information when they are doing their business in private?
Customers have no way of getting in touch with the customer service staff since the corporation has not established any channels for contact. You should never consider trading with a venture that uses a platform that is unconcerned about the damage it may do to its public relations. Ask yourself what the potential outcomes are in the event that you perform below expectations.
Legitimate schemes will provide their customers a wide variety of potential solutions to choose from in order to address the evolving problems. When you phone them, you can count on getting a response that is both kind and competent. A corporation that is financially unable to provide services of a world-class standard will leave you high and dry. They are unable to earn any kind of passive income.
Trading Method (MT4 or MT5)
Investing Dream claims that it trades using a platform known as WebTrader, which may be accessed by browsers, desktops, or mobile devices. There is software with this name, however as the name says, it can only be accessed on the web and does not have an official desktop version.
It is possible to download what is said to be an installation file from the website of Investing Dream. This file is much bigger than those associated with well-known trading platforms. There is no information about the program publisher or version included in the file. We strongly suggest that you heed the advice of the operating system and refrain from installing this dubious software.
Following the completion of the account registration process, we are not even granted access to a browser-based version of the trading platform. The link that is meant to take you to the platform returns the error "No data."
Legitimate brokers provide their customers with access to a diverse range of trading software, which may be in the form of desktop programs, mobile applications, or web-based platforms. MetaTrader 4 (often known as MT4) and MetaTrader 5 are the platforms that see the most active in the business (MT5). These platforms have become the industry standard because they provide a comprehensive set of features. These features include a wide variety of options for customization, the ability to use multiple accounts, the design and implementation of custom scripts for automated trading, and the testing of different trading strategies in the past.
You Can Read Our Other Scam Reviews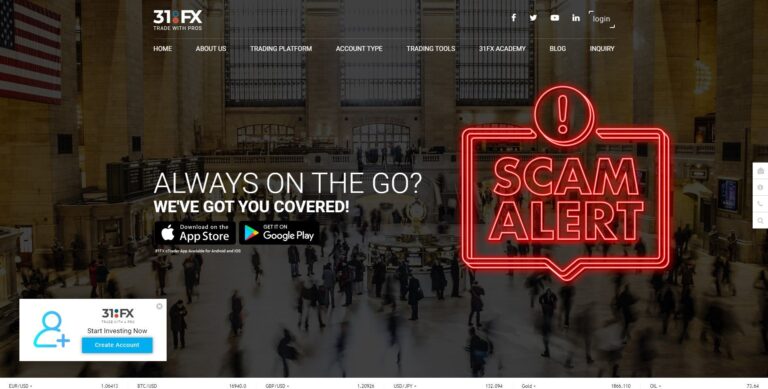 We'll look at the offer that this broker put together for its traders in our 31FX review. Since 2014, 31-FX has been active in the
Read More »
The website of BrisTrades is a total shambles, crammed to the gills with pointless content and ridiculous features. Many aspects of it are damaged or
Read More »
What Do Traders Think Of Investing Dreams?
Because Investing Dream does not publish a minimum deposit requirement, its staff members have the authority to ask for whatever amount they see appropriate. In addition, the spread, as well as the transaction costs, are not stated, which means that you are not aware of the amount of money that will be required for trading fees and commissions. 
In addition to that, there is, of course, a Bonus Policy that will liven everything up. Let's assume you decide to take the bonus; in order to be able to withdraw your cash, you will need to have a trading volume equal to the bonus amount multiplied by 4 in lots. Let's say you received a $1,000 bonus; in order to return it, you had to buy 250 lots, which equals $25 million.
What To Do If You Get Scammed?
Please let us know if you have previously done business with Investing Dream or another fraudulent broker of the same ilk. When it comes to locating a reliable scam money recovery agency, our experts are pleased to be of assistance to you.
File A Complaint
Against Scam Broker's
Final Thoughts
A fraud operation known as Investing Dream has been uncovered. There is no way to get the information you want on the website. Who would want to trade with a platform that doesn't have any software? To what extent do you have confidence that your money will be safe? The withdrawal requests are not being processed by the venture at this time.