Find out why we DO NOT suggest using Swiss-FX as a trading broker by reading our review. This is an evaluation of Swiss-FX.net just to be clear.
Overview
Although Swiss-FX is one of those offshore brokers that disappeared after receiving a regulatory notice, we are confident that it will soon reappear. It has often been seen that scheme brokers just cannot get enough. Once they feel the money, they are unable to turn around and leave permanently. This review attempts to remind you of the scam and teach you how to spot it in order to do that.
| | |
| --- | --- |
| Broker status: | Unregulated Broker |
| Regulated by: | Unlicensed Scam Brokerage |
| Scammers Websites: | swiss-fx.net |
| Blacklisted as a Scam by: | CONSOB, FSMA |
| Owned by: | FM Solutions Group Limited |
| Headquarters Country: | Saint Vincent and the Grenadines |
| Foundation year: | 2020 |
| Supported Platforms: | MT4, WebTrader |
| Minimum Deposit: | N/A |
| Cryptocurrencies: | Yes – BTC, ETH, XRP |
| Types of Assets: | FX, commodities, indices, shares, cryptocurrencies |
| Maximum Leverage: | N/A |
| Free Demo Account: | No |
| Accepts US clients: | Yes |
Is Swiss FX Regulated?
Owned by FM Solutions Group Limited, Swiss FX was an offshore company with headquarters in Saint Vincent and the Grenadines. Since the SVG FSA deemed itself unable to regulate Forex and binary options businesses, it left the issue of Swiss FX regulation unanswered.
Warnings From Financial Regulators
The first authority to reveal the Swiss FX trading fraud was the Italian CONSOB. This regulatory agency said that you shouldn't do business with this fraudulent company and put swissfxuk.com on its list of uncontrolled domains.
Shortly later, the Belgian FSMA issued a comparable caution.
Is Swiss FX Can Be Trusted?
We were able to determine that Swiss FX is not regulated by looking up records on the FCA, ASIC, BaFin, and various other registries. This meant that it was extorting money while functioning illegally. And for that reason, it was simple to vanish. When there is no one above you to govern you, you are free to act any way you wish. but only briefly.
What kind of currency pair do they offer?
Access to five important markets, including Forex, cryptocurrencies, commodities, indices, and shares, was provided by the broker.
Leverage, spread, and the minimum deposit amount for Swiss FX were all kept a secret. The Terms and Conditions, however, plainly specify that you cannot take your money until you have traded "a specific volume" to return the Swiss FX incentive.
Furthermore, you have no right to object if the broker changes the Bonus agreement. Sounds worse than a typical strategy, don't you think?
Customer Support
There is actually no customer support for clients. They don't provide any support number or chat option. Only they can contact you when they think you might be the next potential prey for their scam.
Trading Method (MT4 or MT5)
The choice of trading platform made by Swiss FX isn't much to commend. The broker provided both WebTrader and MT4. It was a positive experience for any investment because it is one of the top pieces of industry software. However, investing any money in this business was risky because the leverage and spread were not disclosed.
The same platform is being provided under controlled circumstances by a large number of authorized businesses.
You Can Read Our Other Scam Reviews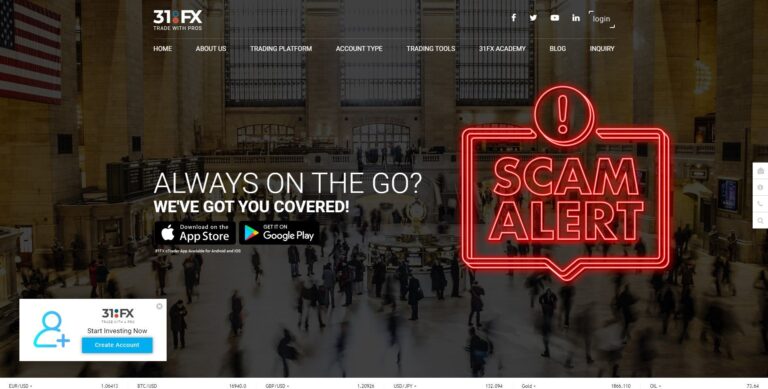 We'll look at the offer that this broker put together for its traders in our 31FX review. Since 2014, 31-FX has been active in the
Read More »
The website of BrisTrades is a total shambles, crammed to the gills with pointless content and ridiculous features. Many aspects of it are damaged or
Read More »
What Do Traders Think Of Swiss FX Brokers?
Reviews of Swiss FX are all negative. Before the business went out of business, customers were complaining about all kinds of things, and they have been looking for a means to get their money back ever since. It appears that the broker secretly transferred clients' cash through AnyDesk while gaining remote access to their machines. German, Swiss, US, and UK traders were primarily the focus of Swiss FX.
What To Do If You Get Scammed?
Please share your experience if Swiss FX or any fake broker defrauded you. Simply report fraud, and a member of our staff will get in touch with you to give you the best advice on how to get your money back. We may offer free consultations, service recommendations, and legal assistance.
File A Complaint
Against Scam Broker's
Final Thoughts
We truly like writing the Swiss-FX review because we want to prevent as many individuals as we can from losing their hard-earned money. Before you do any transaction, it is a good idea to carefully evaluate all of the Forex firms and any other company for that matter.