Cryptocurrency trading is done in two ways. You can either exchange one digital currency for another you want to use or keep or make a profit. On the other hand, it can be largely speculative and will rely on proven trading platforms, tools, and strategies to win profits. If you are looking to find the best crypto exchange that offers the best trading facilities with low fees, then you can come to the right place. Here we will guide you to compare which crypto exchange is the best for trading with a low fee and its advantages.
Some important facts regarding the cryptocurrency exchanges in 2022
The facts on the cryptocurrency exchanges are as follows:
More than 300 crypto exchanges specialize in crypto only. Excludes the apps and platforms that mix stock and other assets with crypto trading. As per the data collected from CoinMarketCp, there are more than 5000 cryptocurrencies to trade. 
Crypto exchanges can be decentralized or centralized. Crypto exchanges that are decentralized require the users to store crypto wallet keys on their own. Whereas centralized exchange controls the keys. It is important to learn more about how crypto works to understand what keys are. Decentralized exchanges are preferred more in the market because it is more secure from hackers.

Centralized and decentralized exchanges work in the way of order books. It means market makers (those placing orders) are matched with the buyers (market makers) using a specific algorithm.
Pro-Tips about the best crypto exchange for the beginners
The pro-tips regarding the best crypto exchange are followed:
Crypto exchanges that are the best have a wide variety of crypto for trading, low fees for credit and debit cards (3% or below), and fast order execution. It is wise to choose that offer stock, forex, CFDs, and other assets on the same platform. 

Social copy trading is highly recommended for beginners who wish to diversify in crypto trading. The traders don't have to spend much time with analysis, although it is crucial to counter-check trades copied, and as a copy trading provider, you can earn passive income.
Security and safety are a must for crypto traders. The best crypto exchanges have multi-sig working with group accounts, 2FA or two-factor authentication, and other top-grade security features.

Look for the exchanges that provide:

Various analytical and research tools, Charting, Indicators options for speculative trading.
Complete list of the best crypto exchange 2022
Down below is the list of the best crypto exchange in 2022:
Pionex
CoinSmart
Binance
Bybit
PrimeXBT
FixedFloat
ChangeNOW
Cash App
Bisq
Kraken
Bittrex
Coinbase
Swapzone
com
io
eToro
1. Pionex
Pionex is one of the top exchanges with 18 free trading bots. One of the biggest Binance brokers aggregates liquidity from Binance and Huobi Global. It provides a suite of robots like Smart Trade Bot, Grid Trading Bot, Trailing Sell Bot, Spot Futures Arbitrage Bot, Martingale Bot, Rebalancing Bot, Dollar-Cost Averaging (DCA) Bot, etc. Advantages-
Compared to most major exchanges, their trading fee is the lowest.

Provides the Rebalancing bot to help you to hold the coins.

License approved by U.S. FinCEN's MSB (Money Services Business).
Trading Cost: Translation fee- 0.05% for maker and 0.05% for the taker. Rating: 5/5 Site: Profit with Pionex Grid Trading Bot
2. Coinsmart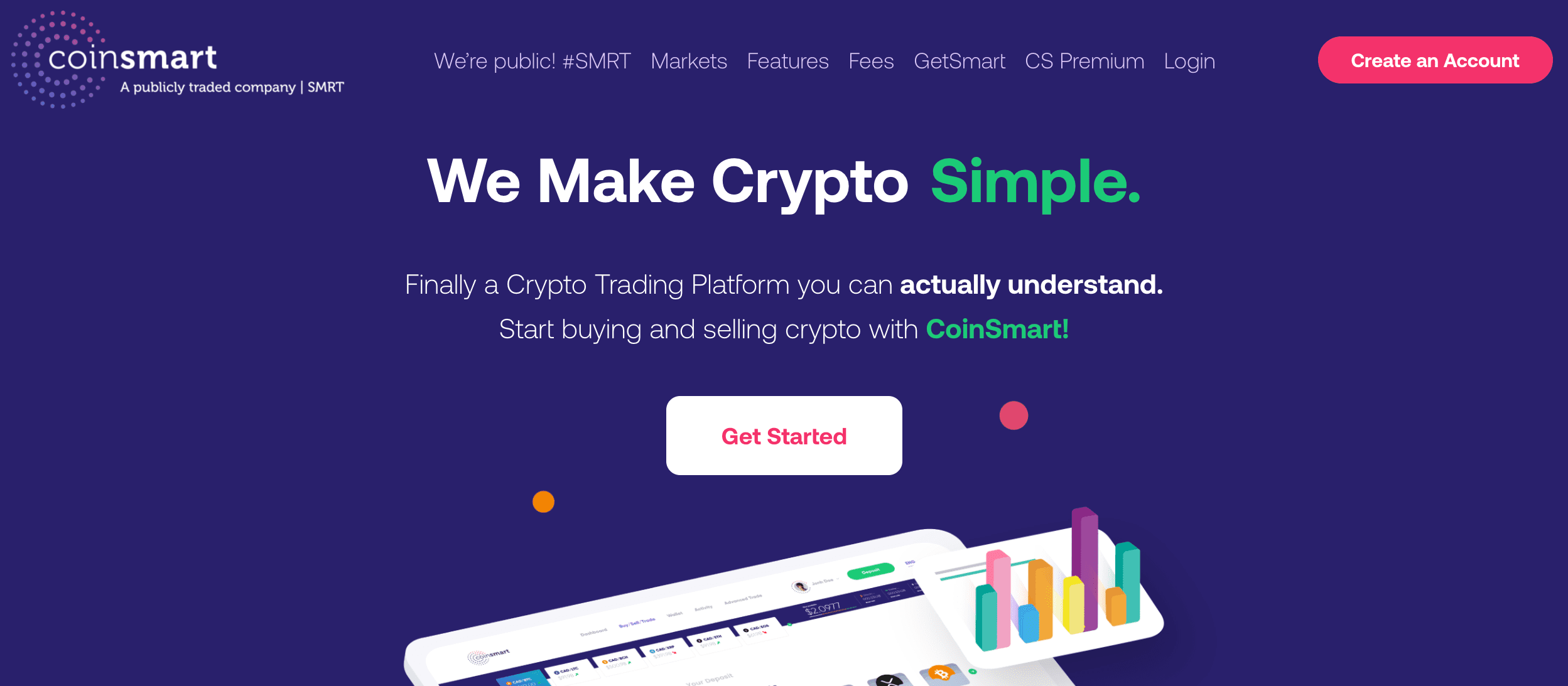 CoinSmart is a Canadian crypto exchange that provides 24/7 support. They have a comprehensive identity verification process that is capable of detecting fake addresses or dates of birth. Advantages-
It has a two-factor authentication system.

It offers an order book functionality to place customized orders.

Users can track all the trades or trading activity.
Trading Cost: For Bank wire and BankDraft – 0% Fee.                           Credit or debit cards- 6%                           Electronic fund transfer- 1% Rating: 5/5  Site: Buy Bitcoin, Ethereum, Doge – Crypto Trading Platform | CoinSmart
3. Binance

Binance is one of the top cryptocurrency exchange apps that supports 150 cryptocurrencies and coins, including the most popular ones like Bitcoin and Ethereum Litecoin, and it has its own BNB coin. Advantages-
It supports two-factor authentication.

Traders can use charting and indicators to trade cryptocurrencies.

It is available in more than 180 countries even though it is banned in the United States.
Trading Cost: The cost may vary from one VIP category to another. For 30-day trading volumes of between below 50 BTC and above or equal to 1500 BTC, the fee varies from 0.075% to 0.0525%. Rating: 5/5 Site: Create a free account | Binance
4. Bybit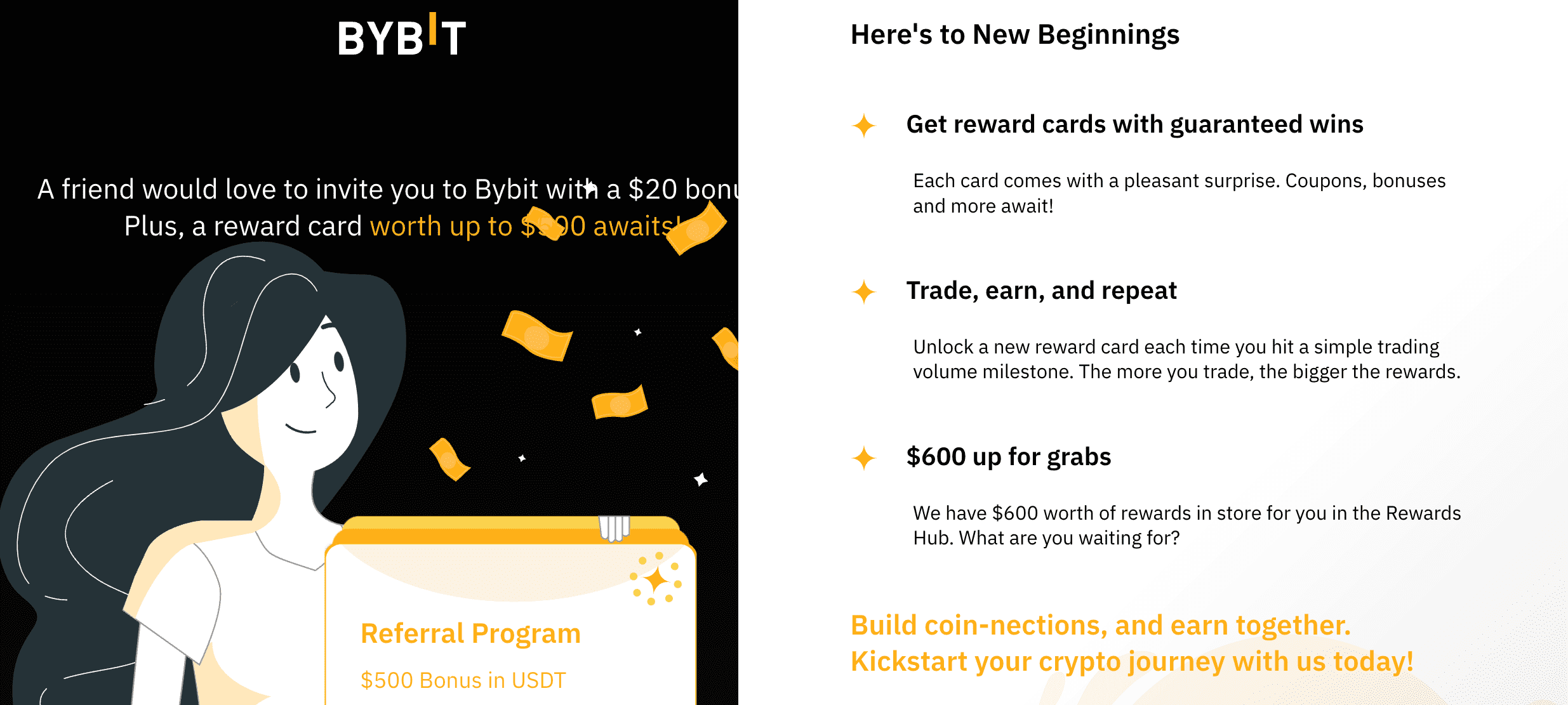 Bybit is a cryptocurrency platform that is smart and intuitive. It provides the features and the functionalities required for the instant buying and selling of crypto. Advantages-
Bybit offers the best-in-class market depth.

High-frequency trading along with lightning-fast market updates is possible through the powerful API.

This platform features high-frequency trading along with lightning-fast market updates.
Trading Cost: For Spot Trading, the maker fee rate – 0%, and the taker fee rate – is 0.1%. Rating: 5/5 Site:  Bybit | Cryptocurrency Trading Platform            
5. PrimeXBT

PrimeXBT trading platform is considered the best in class platform having access to global markets and 24/7 support. By referring your friends, you can earn rewards. Advantages-
It provides superior online trading services globally.

Has a wide range of markets.

Offers advanced trading tools.
Trading Cost: Opening an account is free. Trader fee for cryptocurrency- 0.05%, Indices & Commodities – 0.01% and Forex majors- 0.001% Rating: 5/5 Site: Sign In or Create Your Account | PrimeXBT
6. FixedFloat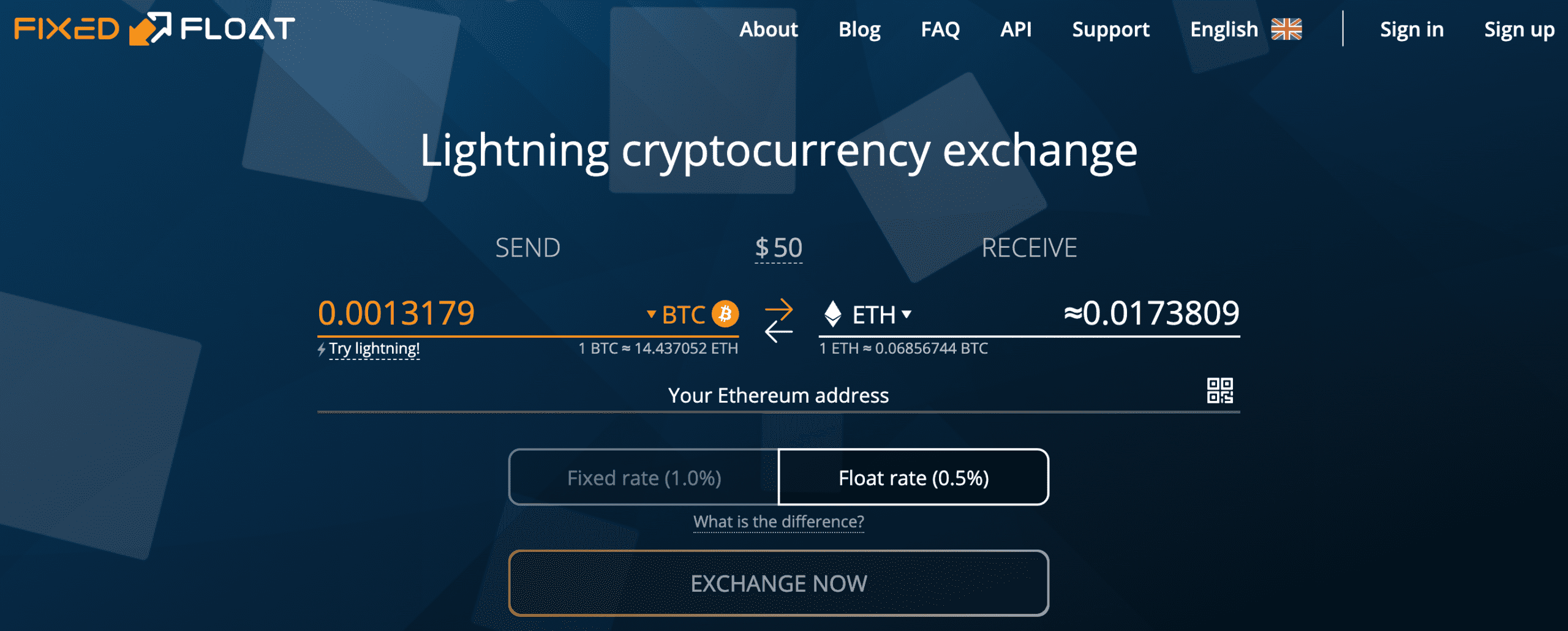 FixedFloat is one of the top crypto exchanges that offer tools for the full use of digital assets. It can provide a flexible and tailored solution. Advantages–
IT supports many currencies such as Bitcoin, Tether, USD Coin, etc.

Processing is fully automated.

Supports cross-platform.
Trading cost: The fixed rate is 1% plus the network fee. You will have to pay 0.5% plus the network fee for the floating rate. Rating: 5/5 Site: FixedFloat | Instant cryptocurrency exchange
7. ChangeNOW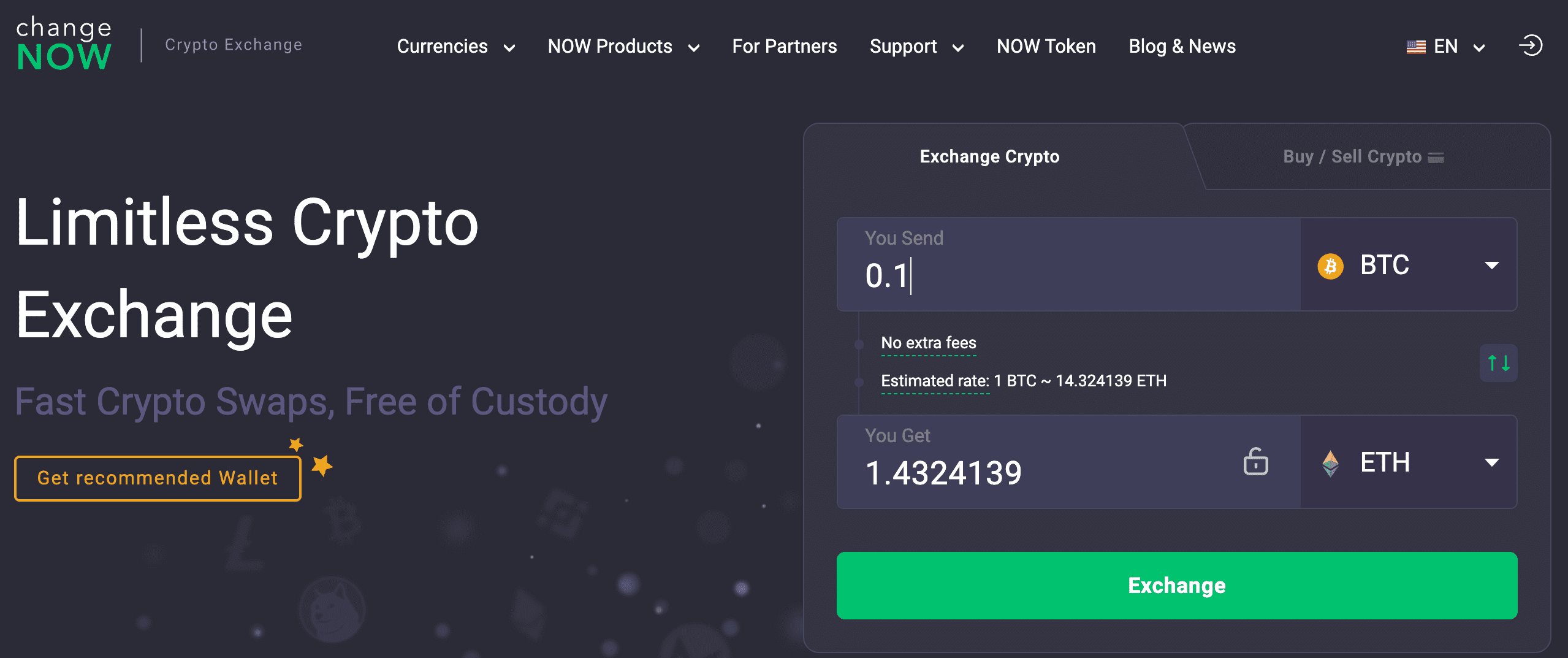 ChnageNOW is a non-custodial limitless cryptocurrency exchange that provides services to exchange Bitcoin to Ethereum, Ripple, XMR, etc. Since there is no need to create an account, it doesn't store any funds. Advantages-
Supports more than 10,000 currency pairs.

The RealRates system is super fast and safe.

Offers instant crypto exchange
Trading Cost: ChangeNOW's transaction fee varies from 0.5% to 4%. Rating: 5/5 Site: Best Crypto Exchange | Top Cryptocurrency Rates and Fees | ChangeNOW
8. Cash App

Cash App is used for sending and receiving peer-to-peer money. It is one of the best crypto exchanges that allow users to buy and sell crypto within the app. Advantages-
The transaction limit for BTC users is $100,000.

Easy to use.

Takes low fee for sending and receiving via banks

There is no middleman since the transaction is peer-to-peer.
Trading Cost: Sending and receiving via banks is free of cost. Credit card payments charge is 3% and for bank instant deposits, it is 1.5% Rating: 4.5/5 Site: Cash App – The easiest way to send, spend, bank, and invest
9. Bisq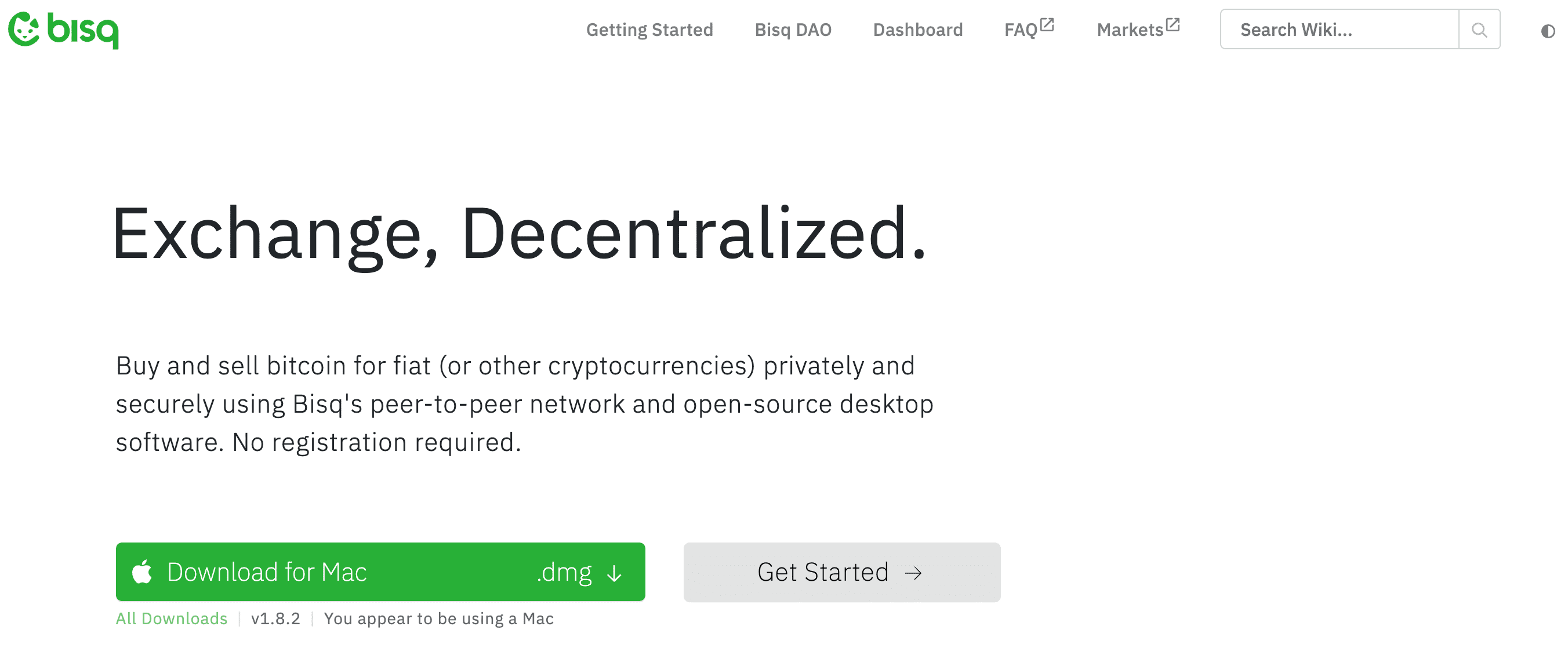 Bisq works on a peer-to-peer basis to send and receive crypto from people directly. It allows the user to buy and sell Bitcoins in exchange for their local currencies in their home countries through the desktop or mobile application interface. Advantages-
Has no point of failure since it is decentralized.

KYC is not required for identification.

Load transactional volumes.

Users can pay in 26 different options.
Trading Cost: For makers pay- 0.10% and for takers pay- 0.07%. Rating: 4.5/5 Site: Bisq – A decentralized bitcoin exchange network
10. Kraken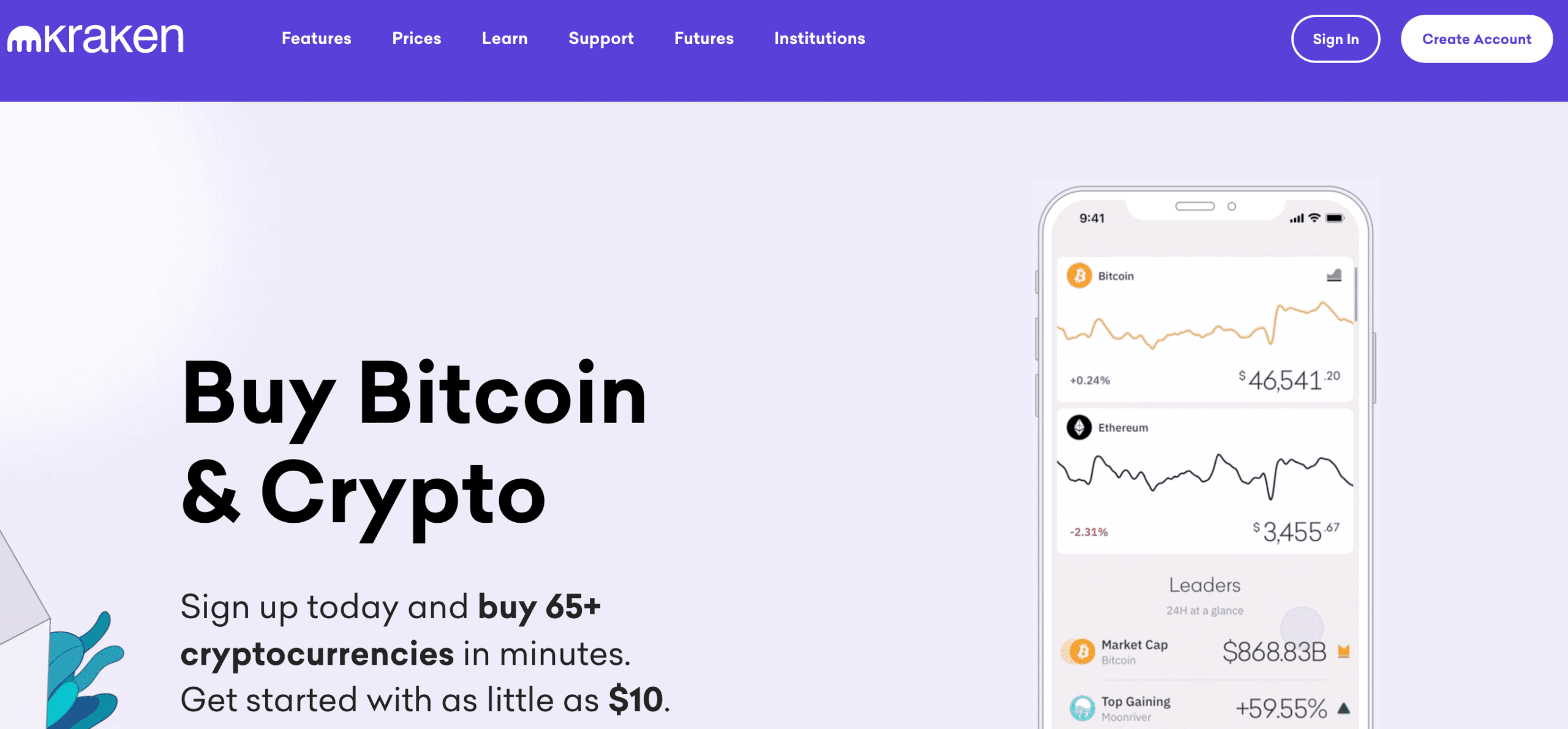 Kraken is one of the top 10 largest crypto exchange platforms based in the United States. It supports 40 cryptocurrencies, including the well-known BTC. Advantages-
It is one of the most secure cryptocurrency exchanges.

Fees are lower than Coinbase.

No chance of social or copy trading.

The regular maximum trading amount is $100,000
Trading Cost: For 30-day transactional volumes of between $0 and $500,000, the maker fee varies from 0.16% to 0.10%. Again, for 30-day transactional volumes of between the same amount, the taker fee varies from 0.26% to 0.20% Rating: 4.5/5 Site: Bitcoin & Cryptocurrency Exchange | Bitcoin Trading Platform | Kraken
11. Bittrex

Bittrex facilitates crypto-to-crypto trading and lists the largest number of cryptocurrencies. It is very secure and fast for trading even though support lacks some.  Advantages- 
Their policy is simpler and clear than most of the exchanges.

It is safe for the users to use since it takes little information from them for verification.

It is available in most countries around the world.
Trading Fee: Their charge for all traders is a flat rate of 0.25%. Rating: 4.5/5 Site: Buy Bitcoin & Ethereum | Cryptocurrency Exchange | Bittrex Global
12. Coinbase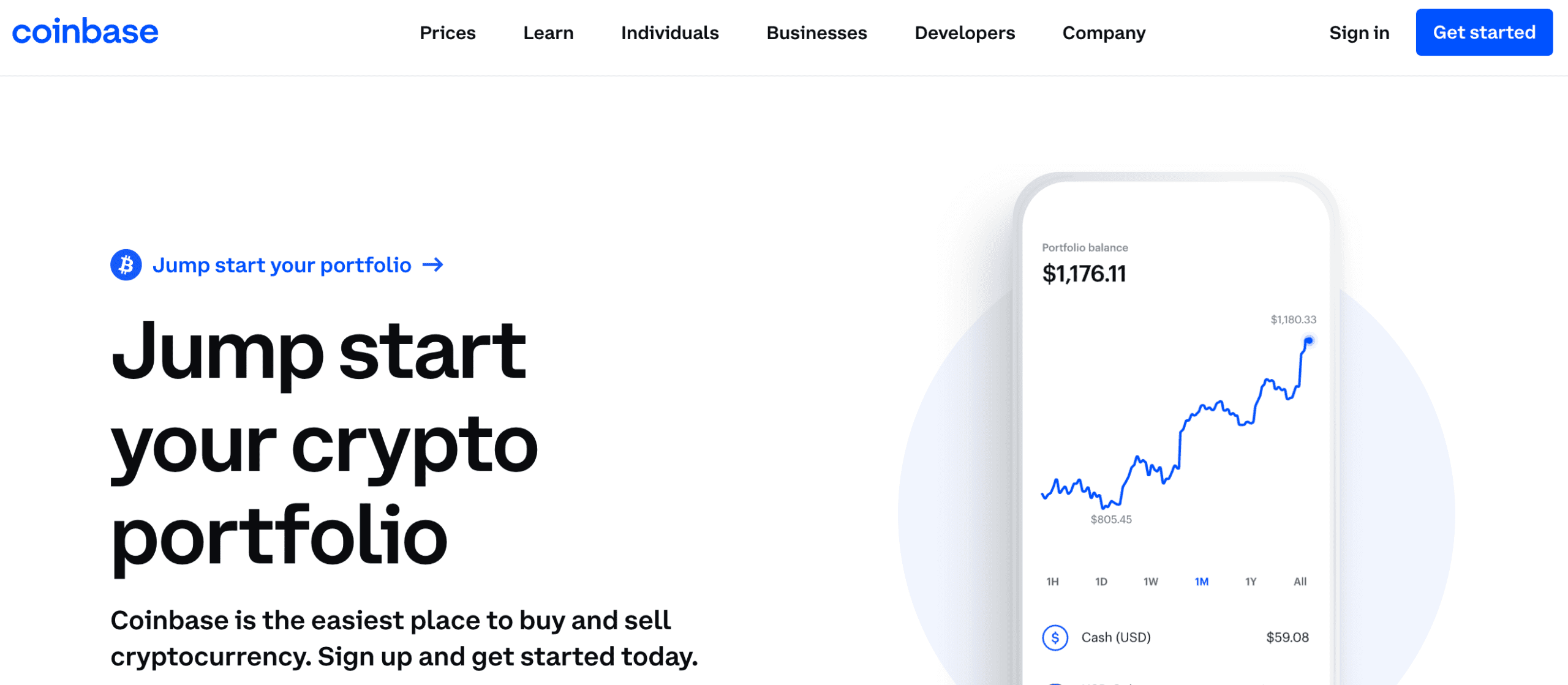 It is the most popular among many other crypto exchanges in the United States. For insured custodial services, it is one of the best crypto exchange which is easy to use. Advantages-
Supports many coins, including Bitcoin.

The volume for liquidity or daily trading columns is very high.

Users can easily find their trades or exchange crypto over many crypto options.
Trading Cost: Depending on the dollar value, the fee is between $0.99 and $2.99. Rating: 4.5/5 Site: Coinbase – Buy & Sell Bitcoin, Ethereum, and more with trust
13. Swapzone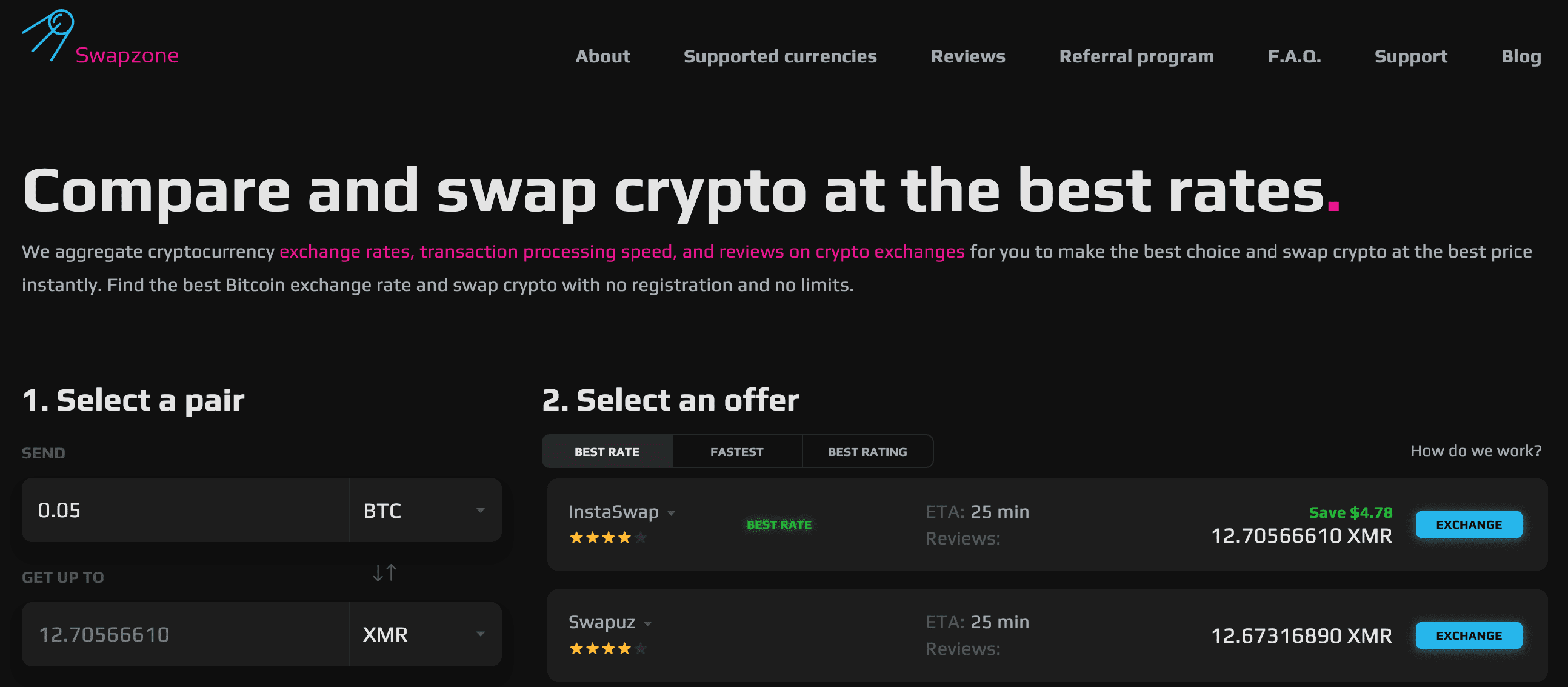 Swapzone is one of the top cryptocurrency exchanges where users can trade over 300 coins without registering on the platform even. It allows the users to compare cryptocurrency swapping opportunities across exchanges. Advantages-
A personal account is not mandatory.

The support team is available 24/7.

Provides Simplified API integration.

Has in-house exchange available on their platform.
Trading Cost: The rates could vary from one crypto exchange to another before trading. Rating: 4.5/5 Site: Instant crypto exchange aggregator: Find the best rates on Swapzone
14. Xcoins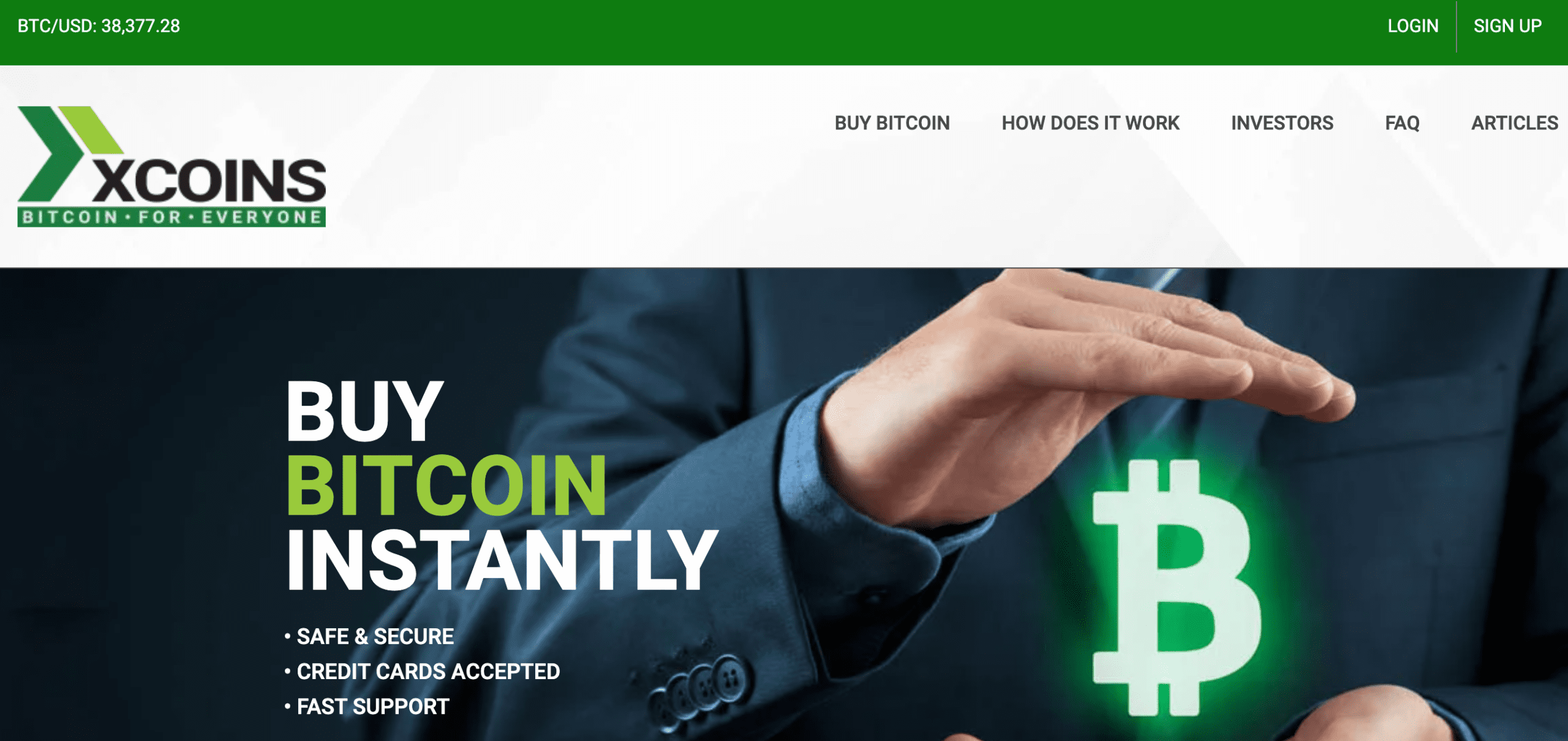 Xcoins is a popular crypto exchange that is Malta-based. It allows different trading pairs of cryptocurrencies in over 100 countries. The main agenda of this exchange was to make buying Bitcoins smooth and frictionless for starters and non-experienced in crypto. Advantages-
Available in more than 167 countries.

24/7 support through live chat, phone, and emails.

Registration can take only 2 minutes to complete, which is very easy for beginners.

The verification procedure is near-instant.
Trading Cost: For debit and credit card processing fees- 5% Rating: 4.5/5 Site: Xcoins™ Official | Buy & Sell Crypto Instantly
15. CEX.io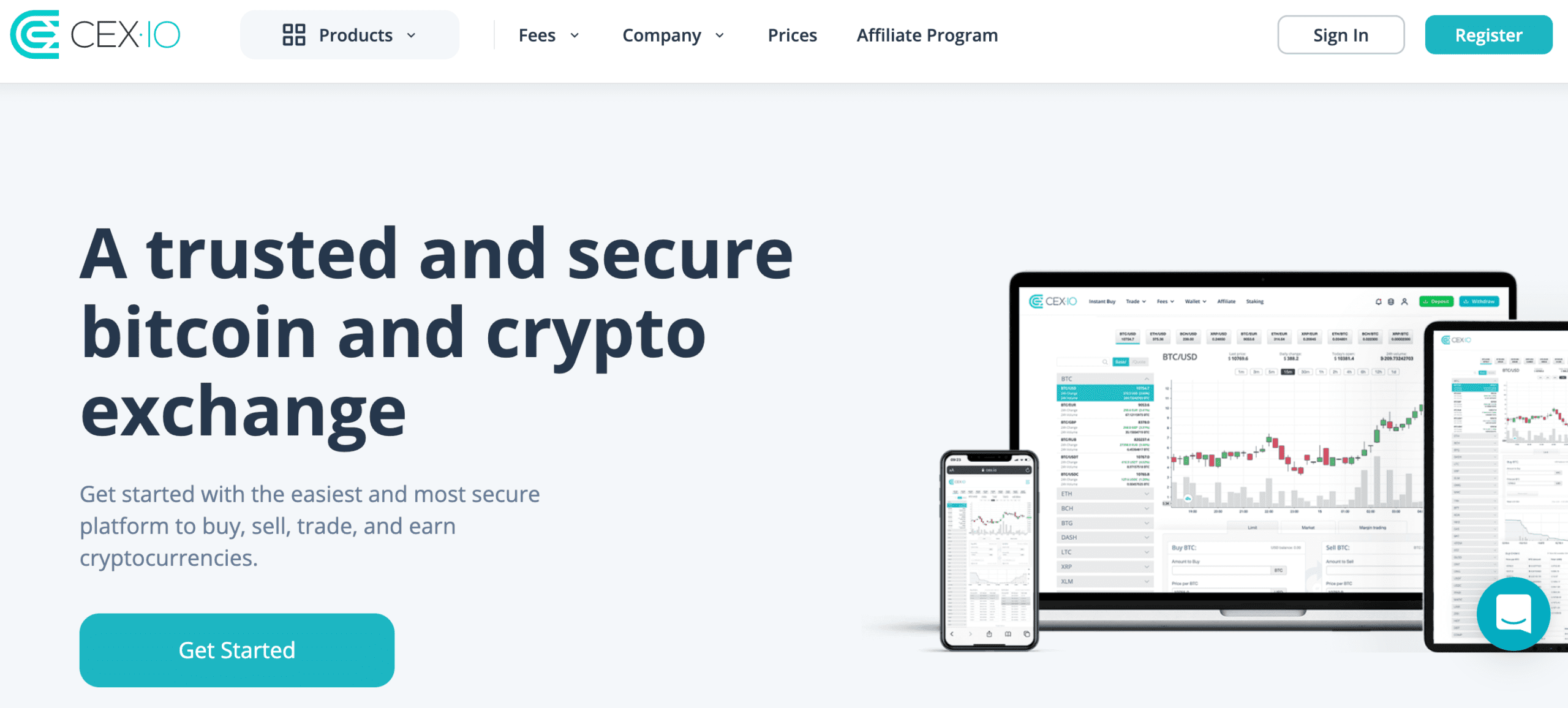 CEX.io is one of the top crypto exchanges that offer users to buy and sell their digital cryptocurrencies. The money is withdrawn via bank accounts or VISA and other debit and credit cards. The commission is given for trading large volumes of cryptocurrencies. Advantages-
24/7 customer service is offered via email, phone, and live chat. 0705347905

It is supported in almost 99% of all countries, including 47 states in the United States.

For reliable order books and order execution, CEX.io uses advanced order match-making algorithms.
Trading Cost: Trading cost is dependent on the customer's 30-day trading volume. For the trading volume of between below or equal to 5 BTC and less than or equal to 100 BTC, the taker fee varies from 0.25% and 0.20%, and for maker fee is between 0.16% and 0.12% Rating: 4.5/5 Site: Bitcoin & Cryptocurrency Exchange | Best Bitcoin Trading Platform – CEX.IO
16. eToro

eToro is one of the well-known crypto exchanges that consists of social copy trading stock, securities, forex, and CFD. Social copy trading allows users to copy a trade from the expert traders they follow. Advantages- 
eToro supports 94 cryptocurrency trading pairs and a total of 2361 tradable symbols.

The trading demo is available for beginners.

The eToro mobile wallet app uses a multi-sig scheme for crypto owners and custodian users.
Trading fee: For trading crypto- 0.75%. For fiat to crypto conversion- 5%. And for crypto-to-crypto exchanging or conversion- 0.1% Rating: 4.4/5 Site: eToro – The World's Leading Social Trading and Investing Platform
How can I recover my stolen cryptos online?
If your crypto wallet is stolen then rest assured there is a way to recover. Brokercomplaintalert.com Is one of the best sites where certified blockchain experts will recover the stolen crypto for you for a fee. You can directly contact them and all the information you will share will be strictly confidential.
Want to know How the recovery system works? then read another article about – Bitcoin & Cryptocurrency Scams – Get Your Money Back!
Fill in your details and one of our representatives will contact you within 1-2 business days
Final Verdict 
The crypto exchanges that are considered the best offer secure, easy-to-use platforms with high trading volumes. Customers can trade multiple cryptos and pay in multiple payment options. Some exchanges offer a mix of stock, forex trading, and crypto. That is best for stock and forex traders, who are looking for the best alternatives for diversifying. The trading fee and cost vary depending on the crypto exchanges you will trade. Most of the best crypto exchange have higher fees for credit and debit cards than for online payment methods and bank accounts.  If you are looking for the most secure and safe crypto trading, decentralized exchanges that use blockchain are known for being the best.